Are Higher Interest Rates Damaging the Housing Recovery?
The housing recovery is often considered one of the strongest areas of the economy, but rising interest rates continue to weigh on mortgage applications.
According to the Mortgage Bankers Association's latest report, for the week ending June 28, loan application volume plunged 11.7 percent on a seasonally adjusted basis from one week earlier. That's the seventh weekly decline in eight weeks, and comes after a 3 percent drop in the previous week. The figures include both refinancing and home purchase demand, and cover more than 75 percent of all domestic retail residential mortgage applications.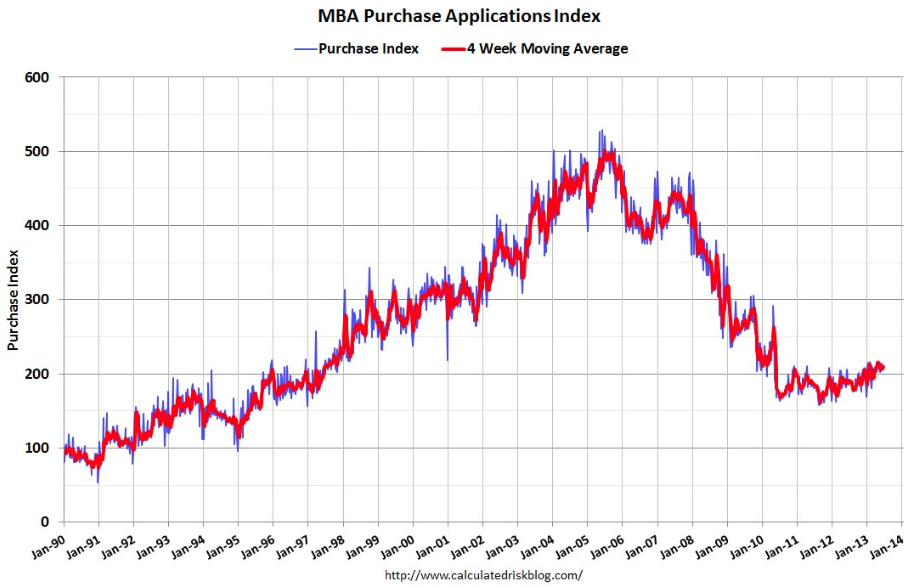 The industry group's refinance index also dropped 16 percent to reach its lowest level since July 2011. The unadjusted purchase index declined 4 percent, but is still 12 percent higher than the same time last year.
Overall, the refinance share of mortgage activity decreased to 64 percent of total applications, its worst level since May 2011.
"Mortgage rates reached their highest point in two years last week. At these rates, fewer homeowners have an incentive to refinance, and refinance application volume declined more than 15 percent," said Mike Fratantoni, the Mortgage Bankers Association's vice president of research and economics. "With this decline in volume, the refinance share dropped to its lowest level in more than two years.  Purchase application volume also declined, but not nearly to the same extent, as affordability remains strong."
Interest rates continue to trend higher and cause reason for concern in the real estate market. The average interest rate for a 30-year fixed-rate mortgage reached its highest level since July 2011 at 4.68 percent, up from 4.46 percent in the previous week. The most recent average rate for a 15-year fixed-rate mortgage rose to 3.64 percent — also its highest level since July 2011.
In morning trading, home-related stocks like Lowe's Cos. (NYSE:LOW) and Wells Fargo & Co. (NYSE:WFC) edged slightly lower. Homebuilders like Toll Brothers (NYSE:TOL) and PulteGroup (NYSE:PHM) managed to gain 0.50 percent and 0.20 percent, respectively.
Don't Miss: Are Restaurants Signaling Better Days Ahead?
Follow Eric on Twitter (@Mr_Eric_WSCS)