Are Higher Interest Rates Hitting the Housing Market?
The real estate market is taking a breather from the recent rise in interest rates, but mortgage applications continue to decline.
According to the Mortgage Bankers Association's latest report for the week ended July 19, loan application volume dropped 1.2 percent on a seasonally adjusted basis from one week earlier. That's the tenth weekly decline in only 11 weeks, and comes after a 2.6 percent decline in the previous week. The figures include both refinancing and home purchase demand, and cover more than 75 percent of all domestic retail residential mortgage applications.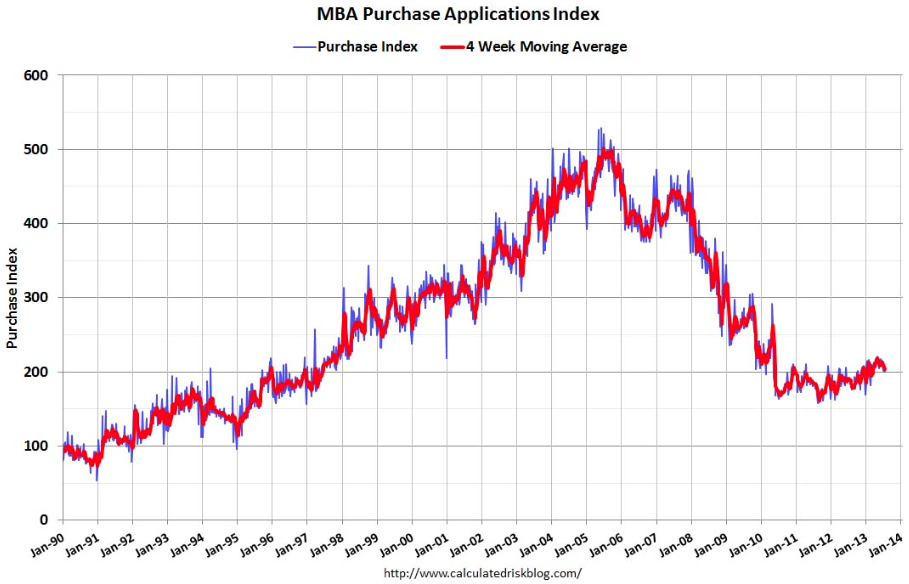 The industry group's refinance index fell 1 percent to reach its lowest level since July 2011, while the unadjusted purchase index declined 2 percent. Overall, the refinance share of mortgage activity accounted for 63 percent of total applications, which is unchanged from the previous week, and its lowest level since April 2011.
Interest rates moved lower, helping calm fears about the recent rise. The average interest rate for a 30-year fixed-rate mortgage declined to 4.5 percent, down from 4.68 percent — its highest level since July 2011. The most recent average rate for a 15-year fixed-rate mortgage edged lower to 3.63 percent, compared to 3.7 the week before.
Between the beginning of May and the end of June, the average interest rate for a 30-year fixed-rate mortgage surged from 3.59 percent to 4.68 percent. The move has many consumers fearing that rates will continue to rise. According to a recent survey from Fannie Mae, the number of respondents who believe mortgage rates will increase over the next year jumped 11 percentage points from May to hit 57 percent in June, the highest level in the survey's three-year history.
In morning trading, shares of Home Depot (NYSE:HD) and Lowe's (NYSE:LOW) both traded slightly higher. Shares of D.R. Horton (NYSE:DHI) jumped almost 2 percent, while Lennar (NYSE:LEN) declined 0.75 percent.
Don't Miss: Top 10 Real Estate Markets Where Home Flippers Are Making a Killing
Follow Eric on Twitter (@Mr_Eric_WSCS)