Are Home Prices Finally Slowing Their Rapid Ascent?
Home prices in the United States continue to climb higher, but the real estate market may be signaling that the current pace is unsustainable.
According to the latest Federal Housing Finance Agency report, home prices increased 0.7 percent on a seasonally adjusted basis in May, compared to the previous month. The House Price Index has now logged 16 consecutive monthly price increases. However, the agency also revised April's 0.7 percent gain down to 0.5 percent.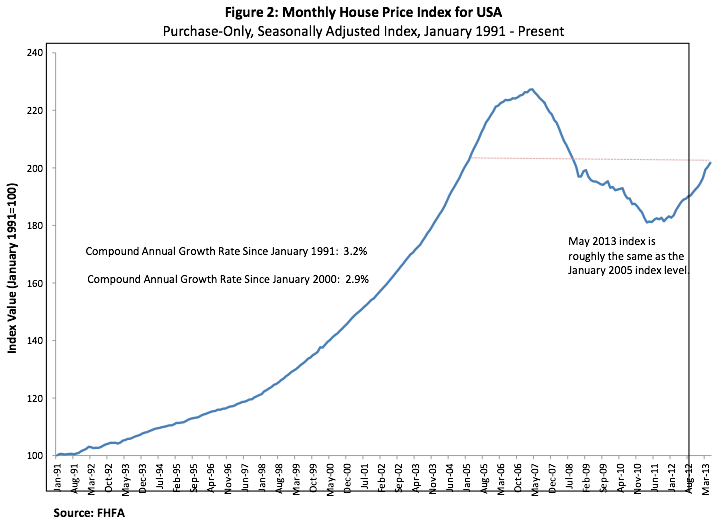 The FHFA index is based on single-family homes, with mortgages that have been sold to or guaranteed by Fannie Mae or Freddie Mac. The index does not provide specific prices for homes, but the index has not posted a decline in national home prices on a monthly basis since January 2011.
For the 12 months ending in May, domestic home prices jumped 7.3 percent – a slight decrease from the previous month. The FHFA index is back to January 2005 levels, but still remains 11.2 percent below its April 2007 bubble peak.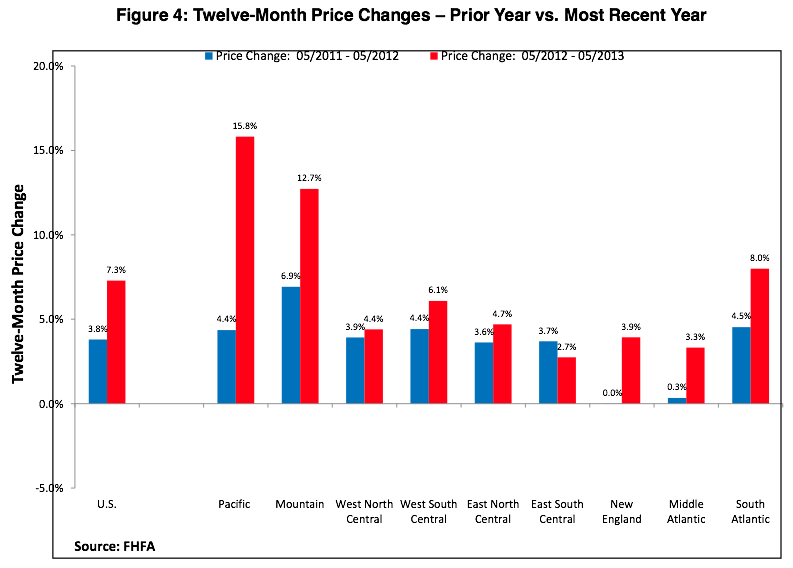 Some regions are looking more bubblicious than others. The advance was led by a 15.8 percent surge in the Pacific region year-over-year, which includes Hawaii, Alaska, Washington, Oregon, and California. Meanwhile, the Mountain region jumped 12.7 percent. However, both regions slowed their price gains from the previous month. The East South Central region — which is made up of Kentucky, Tennessee, Mississippi, and Alabama — was the weakest region, with a yearly gain of only 2.7 percent.
While the housing market is due to slow its impressive price gains, a report released earlier this week from the National Association of Realtors showed that buyers are slowing their purchases. Total existing-home sales for June declined 1.2 percent to a seasonally adjusted annual rate of 5.08 million units, worse than expected by economists.
Single-family home sales in June dropped 1.1 percent, to a seasonally adjusted annual rate of 4.50 million units, compared to 4.55 million units in May. On a regional basis, existing-home sales in the Midwest remained unchanged at a pace of 2.03 million in June. However, sales in the South fell 1.5 percent, while the Northeast and West both posted declines of 1.6 percent.
In morning trading, shares of Home Depot (NYSE:HD) and Lowe's (NYSE:LOW) both traded about 0.50 percent higher. Home-builder stocks, such as Toll Brothers (NYSE:TOL) and Lennar (NYSE:LEN), both gained about 1 percent.
Don't Miss: Are the Super Wealthy Buying Stocks Again?
Follow Eric on Twitter (@Mr_Eric_WSCS)