Are Home Prices Starting to Show Cracks in the Real Estate Market?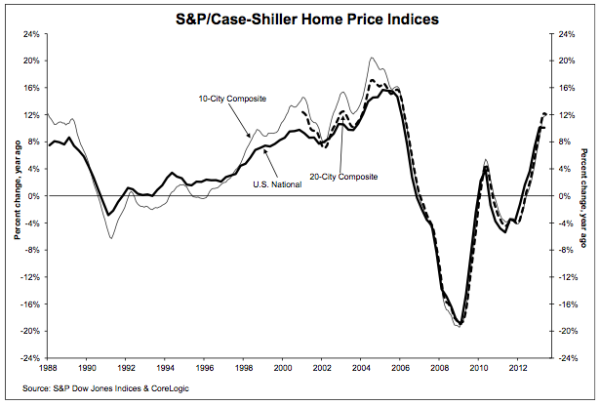 Despite higher mortgage rates and a sluggish economy, home prices in the United States continue to climb higher. However, a reduction in the pace has some wondering if the recovery in real estate is cracking. Single-family home prices increased once again in June, but the pace was slightly slower.
According to the S&P/Case-Shiller composite index of 20 metropolitan areas, which is a three-month average, home prices rose a seasonally-adjusted 0.9 percent in June from May after gaining 1 percent in May. On a non-seasonally basis, prices climbed 2.2 percent.
All 20 cities posted gains on a monthly and annual basis. Compared to last year, the 20-city composite jumped 12.1 percent in June, slightly below estimates and the 12.2-percent gain in May – the best reading in over seven years. Economists expected home prices to increase about 12.2 percent in June.
"National home prices rose more than 10 percent annually in each of the last two quarters," said David M. Blitzer, chairman of the Index Committee at S&P Dow Jones Indices. "However, the monthly city by city data show the pace of price increases is moderating."
He added, "Thirteen out of twenty cities saw their returns weaken from May to June. As we are in the middle of a seasonal buying period, we should expect to see the most gains. With interest rates rising to almost 4.6 percent, home buyers may be discouraged and sharp increases may be dampened." Only six out of the 20 cities posted faster price gains in June than May, compared to 10 cities in the prior report.
Dallas and Denver reached new all-time highs in June while San Francisco is up the most from its March 2009 low with a gain of 47 percent. Average home prices across the nation are back to spring 2004 levels, but are still 23 percent below their bubble glory days.
In morning trading, home-improvement names such as Home Depot (NYSE:HD) and Lowe's (NYSE:LOW) both declined nearly 1 percent. Home builders PulteGroup (NYSE:PHM) and D.R. Horton (NYSE:DHI) dropped 1.5 percent and 1.8 percent, respectively.
Don't Miss: Are Home Values Already Acting Bubblicious Again?
Follow Eric on Twitter @Mr_Eric_WSCS