Are Layoffs Nearing Pre-Recession Levels?
In the ongoing saga that is the labor market recovery, the United States took another step forward; after initial claims for unemployment benefits fell to 324,000 in the week ended April 27 — the lowest level reported in the past five years. Claims dropped to 323,000 last week — another five-year low. Since reaching an all-time high of 670,000 claims in March of 2009, these figures seem to indicated that layoffs are back to pre-recession levels and that employers are confident enough in current economic conditions to hold onto workers.
Even more encouraging, for the first time, the average over the past month was the lowest since before the recession began. Jobless claims figures are considered a good measure of layoffs and provide the first look at the employment situation for any given month. Still, the weekly figures can be volatile, so economists use the four-week moving average to understand wider trends. Last week, that figure declined, plummeting to 336,750, the lowest level since November 2007.
Before the recession began in December 2007, an average number of 320,000 initial claims were filed each week due to the normal churn in the job market. But when the economy tanked, U.S. firms began cutting millions of jobs and weekly claims soared. Overall, the U.S. economy lost 8.7 million jobs during the financial crisis, and it has added back about 6.2 million since then.
While other economic data has not been so strong, recent claim levels suggest the job market is recovering. Still, unemployment lingers; the unemployment rate sits at 7.5 percent and 11.7 million people remain unemployed. About 3 million of those filed for a second week or more of unemployment benefits two weeks ago, according to the most recent data.
Hiring has yet to pick up significantly, but "there is only so much companies can cut layoffs before they have to start thinking about adding to headcounts," RBS Securities economist Guy Berger told Bloomberg. "The longer this continues, the more likely companies will have to add to headcount." Economists had forecast that 335,000 claims would be reported.
Dismissals have decreased so far in 2013. Further improvement in the labor market depends on whether hiring will pick up, which will help to lower the unemployment rate and give consumer spending a lift. Payrolls expanded by 165,000 workers in April, following a gain of 138,000 in March, according to Labor Department data. While these numbers are far too low to significantly reduce unemployment, the unemployment rate did fall to a four-year low of 7.5 percent last week.
Additional labor gains rely on how employers handle the weaker sales expected for the current quarter. The Labor Department announced earlier this week that job openings shrank in March from the highest level in about five years.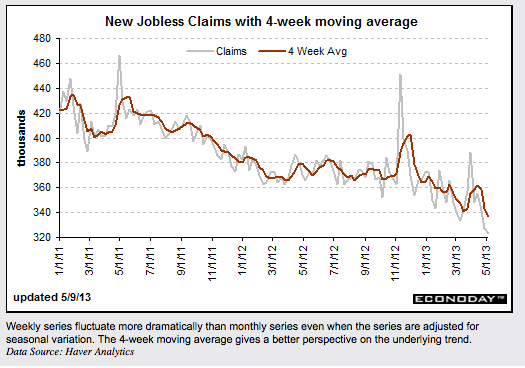 You can follow Meghan on Twitter (@MFoley_WSCS) for the latest industry news.
Don't Miss: Is Your Retirement Becoming More Conservative?