Are Lululemon Shares Set for a Summer Crash?
5.17 million shares of Lululemon (NASDAQ:LULU) are sold short, compared to around 5.23 million shares in the previous month.  Does this mean that the pressure on the stock has decreased?  Not likely.
Bulls will argue that the company's earnings have exceeded its internal guidance and that of stock analysts, as a result of top line growth.  But beating one's internal estimates is rather easy to do: all one needs to do is publicize an earnings per share number that one is certain to beat.  And analysts get much of their insight from talking to company management…so it is hard to infer from having beaten estimates that the company is doing as well as the market claims it is.
So, let's take a more jaundiced look at its financials.  The stock is trading at a very high multiple for what amounts to a fashion retailer: Its forward P/E ratio is 34.67, its 5 year PEG ratio is 1.59, its price to sales ratio is 8.61, and it is trading at a sky-high 14.49 times book value.  On the other hand, its balance sheet is pristine: $260 million in cash, $0 in debt, and a current ratio of 5.93.  There is no chance that this company will face a liquidity crisis in the near future, nor is its operating costs threatening to derail its books.  But the shares are trading at a very high multiple to earnings, which implies that the market, and by extension, investors, think that the company can keep growing at its present rate for the indefinite future.  But all companies' growth rates slow eventually, and this is especially true for fickle fashion brands that appeal to higher income shoppers.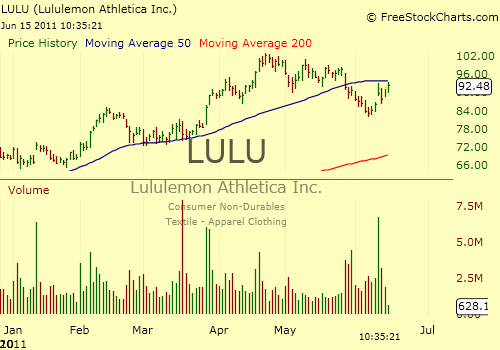 The bottom line is that this company is solidly profitable, and is in no danger of bankruptcy or even minor financial distress for the foreseeable future.  But its shares are also very richly valued, and have priced in an earnings potential that simply may not exist in the future.
About the company: Lululemon Athletica Inc designs and retails athletic clothing.  The Company produces fitness pants, shorts, tops and jackets for yoga, dance, running, and general fitness.  Related companies in the Apparel/Accessories industry include: Liz Claiborne, Inc. (NYSE:LIZ), Oxford Industries, Inc. (NYSE:OXM), Delta Apparel (AMEX:DLA), Quiksilver (NYSE:ZQK), Gildan Activewear (NYSE:GIL), Jones Apparel Group (NYSE:JNY), True Religion Apparel (NASDAQ:TRLG), Iconix Brand Group (NASDAQ:ICON), Coach (NYSE:COH), Polo Ralph Lauren (NYSE:RL), and Under Armour (NYSE:UA).
(Note: selected financial data is taken from Yahoo! Finance.  All data are assumed to be accurate.)
Improve Your 2011 Financial Health: Join the winning team of stock pickers with Wall St. Cheat Sheet's acclaimed premium newsletter >>