Are More Warning Signs Appearing in the Housing Market?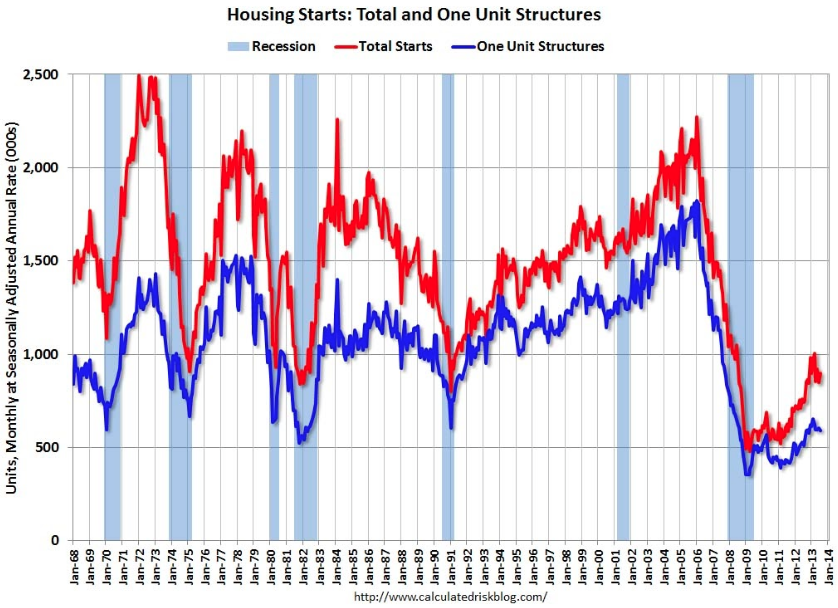 Despite a recent rebound in mortgage rates, housing starts in the United States climbed higher last month. However, warning signs are appearing as the results were weaker than expected. Builders broke ground on houses at a seasonally adjusted annual rate of 896,000 units in July, representing a 5.9 percent rise from the upwardly revised June estimate of 846,000 units, according to the U.S. Department of Commerce. Compared to last year, overall housing starts were up 20.9 percent.
The results were below estimates for the fourth consecutive month. On average, economists expected overall housing starts to increase about 9 percent to a rate of 900,000 units. Furthermore, multi-family ground breaking continues to drive the gains as investors purchase rental units to create a cash-generating investment.
Single-family housing starts in July, the largest segment of the market, declined 2.2 percent to an annualized rate of 591,000 units. Single-family starts have posted a decline in four of the last five months. Higher interest rates have single-family starts at its lowest level since November. Meanwhile, breaking ground on multi-family homes with at least five units jumped 25.5 percent to 290,000 units, compared to 231,000 units in June.
Adding to the weakness, new building permits — an indication of future construction — increased only 2.7 percent to an annualized rate of 943,000 units in July, missing estimates calling for a rate of 945,000 units. Building permits for single-family homes fell from 625,000 units in June to 613,000 units in July.
Overall, construction began on 780,000 units in 2012, a significant increase from 608,800 units in the prior year, but still below the historic average of 1.5 million new homes per year since 1959. Housing starts reached 2.07 million units in 2005. The pace of home construction reached its low point in 2009, below 500,000 units. The report did not dampen the optimism on Wall Street.
In morning trading, shares of Home Depot (NYSE:HD) and Lowe's (NYSE:LOW) edged slightly higher and home builders rose across the board. Shares of Lennar (NYSE:LEN) and D.R. Horton (NYSE:DHI) both gained more than 2 percent, while PulteGroup (NYSE:PHM) increased 3 percent.
Don't Miss: Top 10 Metro Areas With Booming Home Prices
Follow Eric on Twitter @Mr_Eric_WSCS