Are Precious Metals Holding These Key Support Areas?
Recently, there has been an increased amount of focus on gold and silver.  Last week, gold closed 3.5% lower, while silver lost 6.5%.  On Monday, the struggles continued as gold fell $46 to settle under $1,700 and silver dropped $1.30 to close near $31.
Looking at the chart below, it will be important for gold to hold $1,680.  In the past, this price level has acted as overhead resistance as well as downside support.  If gold fails to maintain the $1,680 level, the price could easily fall to $1,600-$1,650 in the short-term.  A sustained rebound above $1,700 will be very encouraging for gold bulls.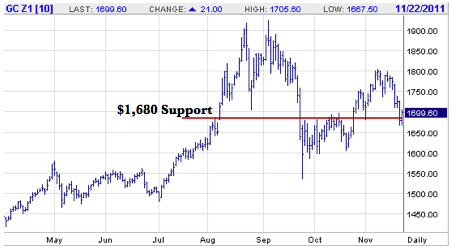 For silver, the critical support range is $30-$31.  Recently, silver has attracted buyers at these levels.  If a silver pullback fails to attract buyers here, then silver could decline to $27.50 before finding support.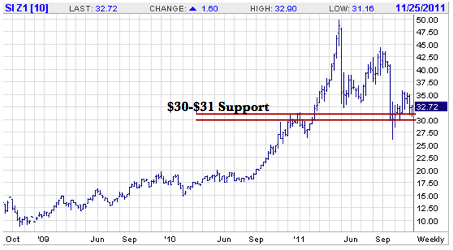 On Tuesday, shares of the SPDR Gold Trust (NYSEARCA:GLD) are up over 1%, while the iShares Silver Trust (NYSEARCA:SLV) is jumping more than 3%.  The precious metals (NYSEARCA:DBP) received a boost after the IMF approved a credit line program designed to provide liquidity to the euro zone.
If you would like to receive more professional analysis on equity miners and other precious metal investments, we invite you to try our premium service free for 14 days.