Are Restaurant Sales Serving a Warning to the Economy?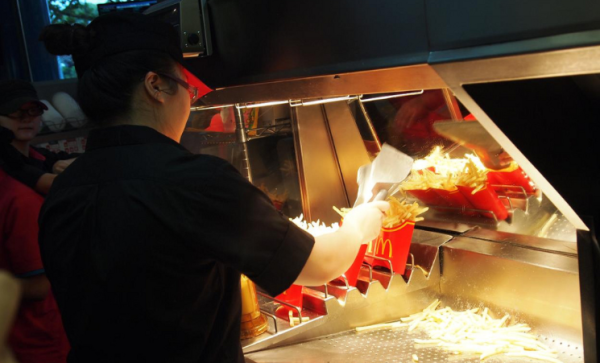 America recently lost the unflattering status of being the most obese developed country in the world. However, eating food is practically a national pastime, and still serves as an economic indicator. Consumers have been eating out more since the trough of the Great Recession, but sales declined in June for the second consecutive month.
Wallets and purses across the nation might be starting another diet. Eating and drinking place sales totaled $45.3 billion last month on a seasonally-adjusted basis, down 1.2 percent from May's sales volume of $45.8 billion, according to preliminary figures from the U.S. Census Bureau.
"After April's record-high sales volume, it's not surprising to see some moderation in sales occurring. However, the late summer season typically brings a boost from travel and tourism, with August being the most common month for leisure travel activity," said Hudson Riehle, senior vice president of research for the National Restaurant Association.
Other indicators may also be warning about the health of the consumer. The Thomson Reuters/University of Michigan preliminary index of consumer sentiment for July came in worse than expected. Meanwhile, Gallup's Economic Confidence Index recently posted its lowest reading since late April.
Despite the warning signals, restaurant sales are 3.1 percent above prior-year levels, indicating consumers are cautious about their spending, but better off than they were during the recession. Adding to the bullish argument, the National Restaurant Association's latest Restaurant Performance Index, which tracks the health and outlook for the industry, hit a fresh 14-month high in May.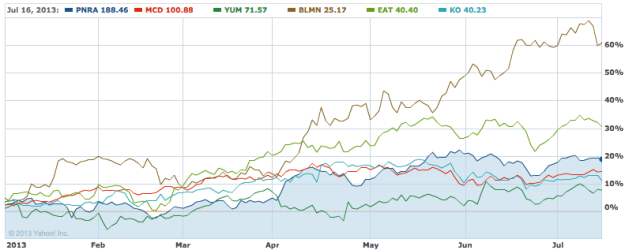 As the chart above shows, it has been a positive year for restaurant-related stocks. Shares of Panera Bread (NASDAQ:PNRA) and McDonald's (NYSE:MCD) have gained 18.7 percent and 14.4 percent year-to-date, respectively. Yum! Brands (NYSE:YUM) — which recently reported weaker-than-expected revenue for the second quarter — has increased almost 8 percent this year.
Shares of Bloomin' Brands (NASDAQ:BLMN) and Brinker International (NYSE:EAT) have surged 61 percent and 30 percent, respectively. However, both companies received a downgrade from JPMorgan Chase on Tuesday. Coca-Cola (NYSE:KO) shares — which some may consider to be a derivative play on the restaurant industry — are up 11 percent this year, after declining 2 percent on Tuesday. The beverage giant announced a 3 percent drop in revenue for the second quarter, and noted a "challenging global macroeconomic environment."
Follow Eric on Twitter @Mr_Eric_WSCS