Are Restaurants Signaling Better Days Ahead?
Eating food is practically the national pastime, especially considering that America is the most gluttonous country in the world. The Great Recession placed many budgets on a strict diet, but Americans appear to be busting out their wallets and waistlines once again.
The strength of the economy is one of the most debated topics in finance. Economic reports across the world continue to show that growth is sluggish at best. However, consumers are still willing to spend money when it comes to dining out. The National Restaurant Association's latest Restaurant Performance Index -= which tracks the health and outlook for the industry =- hit 101.8 in May, representing a 0.90 percent increase from April and a fresh 14-month high.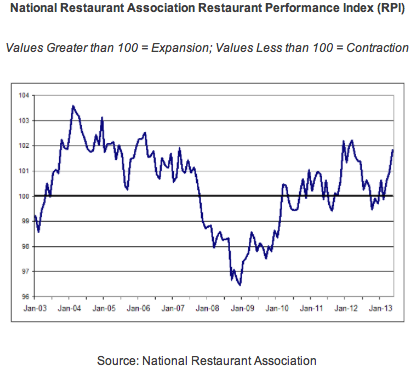 After a slow start to the year, the index has now posted three consecutive monthly gains. May was also the third straight month of a reading above 100, which signifies expansion, while a reading below represents contraction.
"The May increase in the Restaurant Performance Index was driven by broad-based gains in the current situation indicators, most notably positive same-store sales and customer traffic results," said Hudson Riehle, senior vice president of the Research and Knowledge Group for the National Restaurant Association. "In addition, restaurant operators remain optimistic about continued sales growth and a majority plan to make a capital expenditure in the next six months."
The Restaurant Performance Index consists of the Current Situation Index and the Expectations Index. The former measures current trends in same-store sales, traffic, labor, and capital expenditures. It jumped 1.6 percent from the prior month to reach 101.6 in May — the strongest reading since March 2012. Interestingly, 63 percent of restaurant operators reported a same-store sales gain between May 2012 and May 2013, a strong increase from 49 percent in April.
Looking ahead for the next six months, the Expectations Index hit 102.0 in May – its best level in 12 months. In fact, each of the four expectations indicators held above 100 for the fifth consecutive month. Nearly half of restaurant operators expect to see higher sales in the coming six months. Only 8 percent of operators believe their sales volume will decline on a year-over-year basis — the lowest reading in 12 months.
As the chart below shows, it has been a good year for restaurant-related stocks. Shares of Wendy's (NYSE:WEN) and Starbucks (NASDAQ:SBUX) have both surged more than 20 percent this year. Meanwhile, Panera Bread Co. (NASDAQ:PNRA) shares have jumped 18.7 percent year-to-date. Darden Restaurants (NYSE:DRI) and McDonald's (NYSE:MCD) have both gained about 13 percent in 2013. However, shares of Yum! Brands (NYSE:YUM) have lagged behind with a modest gain of 5.8 percent.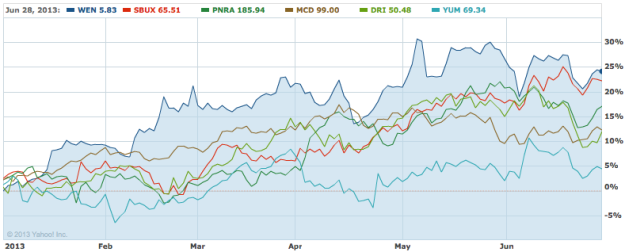 Despite the upbeat Restaurant Performance Index and investor sentiment, restaurant operators are still cautious about the overall economy. Only 30 percent said they expect economic conditions to improve in six months. Fifteen percent believe conditions will worsen over the next six months. Meanwhile, restaurants are reducing their plans for capital spending in the months ahead. Fifty percent plan to purchase equipment for expansion or remodeling in the next six months, down from 59 percent in the previous report.
Don't Miss: The 5 Best Dow Stocks This Year
Follow Eric on Twitter (@Mr_Eric_WSCS)