Are Restaurants Still Recovering from the Great Recession?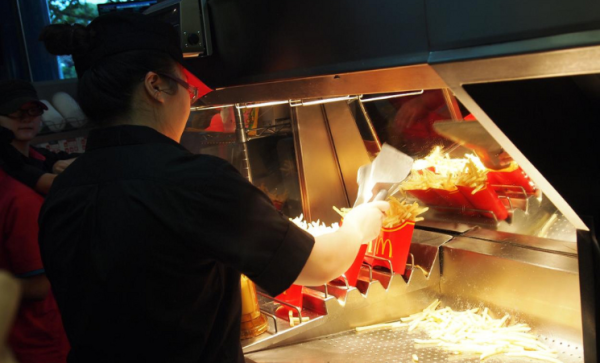 The strength of the U.S. economy is one of the most debated topics in finance. Economic reports continue to show that growth is sluggish at best, while the labor market remains weak despite a declining unemployment rate. Adding to the debate, the restaurant industry is providing mixed signals for those trying to get a reading on consumers.
The Great Recession placed many budgets on a strict diet, but Americans appear to be busting out their wallets and waistlines once again — to some extent. The National Restaurant Association's latest Restaurant Performance Index, which tracks the health and outlook for the industry, edged lower to 101.3 in June compared to 101.8 in May.
"Although the overall RPI dipped somewhat in June, it remained in positive territory as restaurant operators continued to report gains in both sales and customer traffic," said Hudson Riehle, senior vice president of the Research and Knowledge Group for the Association. "Looking forward, restaurant operators remain generally optimistic about the business environment in the months ahead, with the Expectations Index holding steady at a 12-month high."
After a slow start to the year, June represented the fourth consecutive month that the RPI held above 100. A reading above 100 signifies expansion, while a reading below represents contraction. Compared to May, the majority of restaurant operators reported weaker same-store sales and traffic in June.
Overall, the restaurant industry has been slowly expanding this year. There were 3,045 more restaurants across the country in spring 2013 compared to a year earlier, according to NPD Group. The number of chain restaurants increased 1.3 percent while independent restaurants posted a slight decline of 0.20 percent.
"With the restaurant industry not yet fully recovered from the recession, restaurant operators are being more cautious in their expansion plans," said Greg Starzynski, director of product management, NPD Foodservice. "Based on our forecast for slow traffic growth over the next decade, restaurant expansion will continue to be conservative."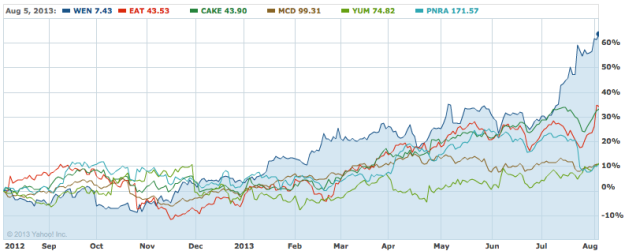 As the chart above shows, it has been a good year for many restaurant-related stocks. Shares of Wendy's (NYSE:WEN) have surged 58 percent this year while Brinker International (NYSE:EAT) and The Cheesecake Factory (NASDAQ:CAKE) have both jumped more than 30 percent. Shares of McDonald's (NYSE:MCD) and Yum! Brands (NYSE:YUM) are up about 12 percent year-to-date, but Panera Bread (NASDAQ:PNRA) is up only 8 percent.
Don't Miss: Is the Debt Ceiling Worse Than Sharknado?
Follow Eric on Twitter @Mr_Eric_WSCS