Are Rising Interest Rates Hitting the Housing Market?
The housing recovery is receiving more attention these days as low interest rates induced by the Federal Reserve begin to rise. While this will lower affordability and slow refinancing activity, mortgage applications managed to break their four-week losing streak.
According to the Mortgage Bankers Association's latest report for the week ending June 7, loan application volume increased 5 percent on a seasonally adjusted basis from one week earlier. That is the first gain in a month and comes after an 11.5 percent plunge in the previous week. The figures include both refinancing and home purchase demand, and cover over 75 percent of all domestic retail residential mortgage applications.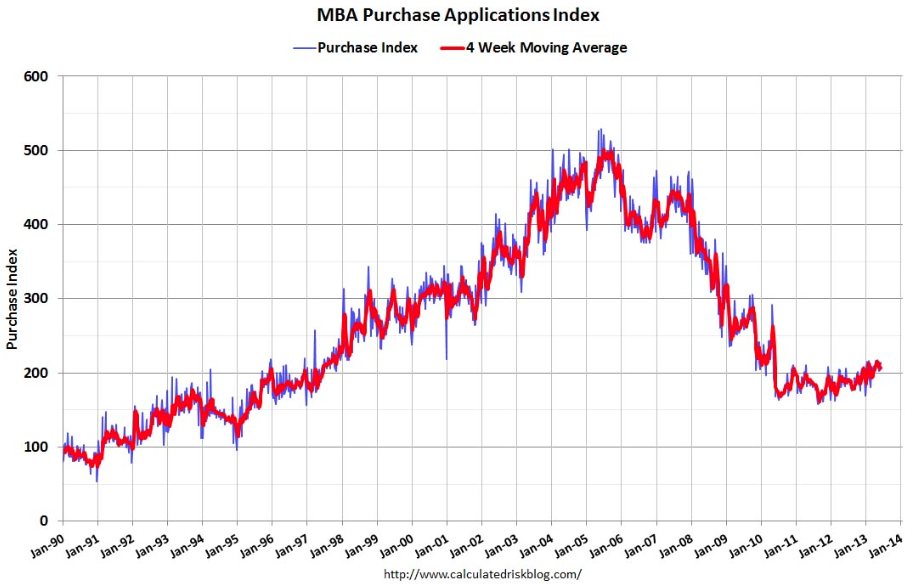 The industry group's Refinance Index also increased 5 percent, but is still 11 percent lower than it was two weeks ago, and 36 percent below its peak made at the beginning of May. The unadjusted Purchase Index jumped 14 percent and is now 6 percent higher than the same time last year.
Overall, the refinance share of mortgage activity increased to 69 percent of total applications, compared to 68 percent in the previous week – its worst level since July 2011.
Interest rates continue to trend higher and cause reason for concern in the real estate market, as chatter about the Federal Reserve "tapering" its bond-buying programs heat up. The average interest rate for a 30-year fixed-rate mortgage reached its highest level since March 2012 at 4.15 percent, up from 4.07 percent in the previous week. The most recent average rate for a 15-year fixed-rate mortgage also increased from 3.23 percent to 3.32 percent, its highest level since April 2012.
The latest Federal Open Market Committee minutes – released last month – ignited speculation about the Fed dialing down its presence in the market. The central bank explained, "A number of participants expressed willingness to adjust the flow of purchases downward as early as the June meeting if the economic information received by that time showed evidence of sufficiently strong and sustained growth."
In morning trading, shares of home builders such as Lennar (NYSE:LEN) and D.R. Horton (NYSE:DHI) jumped 2.3 percent and 1.6 percent, respectively. Meanwhile, home-improvement names such as Home Depot (NYSE:HD) and Lowe's (NYSE:LOW) gained 0.50 percent and 0.95 percent, respectively.
Don't Miss: 3 Ways Baby Boomers Are Redefining Retirement
Follow Eric on Twitter (@Mr_Eric_WSCS)