Are Rising Interest Rates Scaring Home Buyers?
The housing recovery theme is still in progress, but rising interest rates continue to scare consumers as mortgage applications reached their lowest level since November 2011.
According to the Mortgage Bankers Association's latest report for the week ending June 21, loan application volume fell 3 percent on a seasonally adjusted basis from one week earlier. That is the sixth weekly decline in seven weeks and comes after a 3.3 percent drop in the previous week. The figures include both refinancing and home purchase demand, and cover over 75 percent of all domestic retail residential mortgage applications.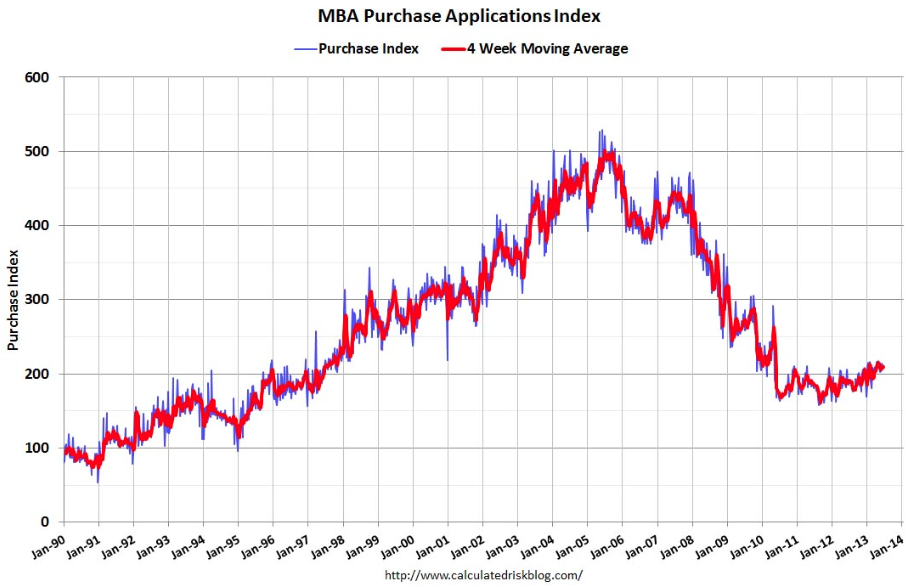 The industry group's Refinance Index also dropped 5 percent. However, the unadjusted Purchase Index managed a modest 1 percent gain, and is still 16 percent higher than the same time last year.
Overall, the refinance share of mortgage activity decreased to 67 percent of total applications, compared to 68 percent at the beginning of the month – its worst level since July 2011.
"Interest rates moved up sharply following the Federal Reserve press conference last Wednesday where it was indicated that the Fed could begin tapering their asset purchases later this year," said Mike Fratantoni, MBA's Vice President of Research and Economics. "Mortgage rates increased by the most in a single week since 2011, and refinance application volume dropped to its lowest level in almost two years."
Interest rates continue to trend higher and cause reason for concern in the real estate market. The average interest rate for a 30-year fixed-rate mortgage reached its highest level since August 2011 at 4.46 percent, up from 4.17 percent in the previous week. The most recent average rate for a 15-year fixed-rate mortgage rose to 3.55 percent, its highest level since November 2011.
The downbeat report did not hinder housing-related stocks. In morning trading, home builders such as Lennar (NYSE:LEN) and Toll Brothers (NYSE:TOL) jumped 2.2 percent and 1.9 percent, respectively. Meanwhile, Lowe's Companies (NYSE:LOW) and Home Depot (NYSE:HD) increased 1.8 percent and 0.90 percent, respectively.
Don't Miss: Home Prices Are Still Marching Towards Old Bubble Peak
Follow Eric on Twitter (@Mr_Eric_WSCS)