Are Stocks Finally Running Out of Steam?
The relentless move higher in stocks finally appears to be taking a much needed breather. Recent chatter about the Federal Reserve dialing down its bond-purchasing programs in the near future is worrying some investors, but Mr. Market isn't hitting the panic button just yet.
The Dow Jones Industrial Average (NYSEARCA:DIA) finished May in the green this year for the first time since 2009. The index logged a six-month winning streak, while the S&P 500 (NYSEARCA:SPY) extended its streak to seven months, its best run in over three years. However, both indices have failed to make new highs that were reached on May 22 — the same day the Federal Reserve released its Federal Open Market Committee minutes.
NEW! Discover a new stock idea each week for less than the cost of 1 trade. CLICK HERE for your Weekly Stock Cheat Sheets NOW!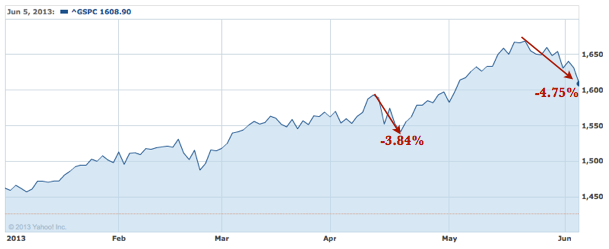 As the chart above shows, the S&P 500 is now experiencing its worst slump of the year. Measuring from the intra-day high of 1,597.35 set on April 11 to the intra-day low of 1,536.03 on April 18, the index declined 3.84 percent. The current slide from May 22 to the intra-day low of 1,607.09 made on Wednesday totals 4.75 percent.
An increase in volatility started when the FOMC minutes stated, "A number of participants expressed willingness to adjust the flow of purchases downward as early as the June meeting if the economic information received by that time showed evidence of sufficiently strong and sustained growth; however, views differed about what evidence would be necessary and the likelihood of that outcome."
While no one expects the central bank to end its stimulus efforts abruptly — if ever — more cautious flags are being raised. Earlier this week, Federal Reserve Bank of Kansas City President Esther George voiced her concerns that the central bank "should not underestimate the risk of an extended period of zero interest rates" and the imbalances that can follow. She also added, "Such imbalances could unwind in a disruptive manner and cause the labor market recovery to stumble."
NEW! Discover a new stock idea each week for less than the cost of 1 trade. CLICK HERE for your Weekly Stock Cheat Sheets NOW!
On average, stocks suffer a 5 percent dip about three times a year, and a 10 percent pullback once a year. After five months of positive gains this year, stocks are finally taking a break – just in time for the usual summer slowdown. Economic reports are still dismal and expectations for second quarter earnings continue to fall, but the current pullback is healthy after the rapid rise seen earlier in the year.
Don't Miss: Gun Control: Which Side Has More Passion?
Follow Eric on Twitter (@Mr_Eric_WSCS)