Are Stocks Meeting Expectations on Their Way to New All-Time Highs?
The most hated stock rally in history continued to make fresh all-time nominal highs this week. More records were broken as earnings season heated up, but how well are companies meeting expectations?
On Thursday, the Dow Jones Industrial Average reached an intraday high of 15,589.40, while the S&P 500 hit as high as 1,693.12. Both major indices finished the day at record closing highs. In fact, the market value of the S&P 500 topped $15 trillion for the first time in history.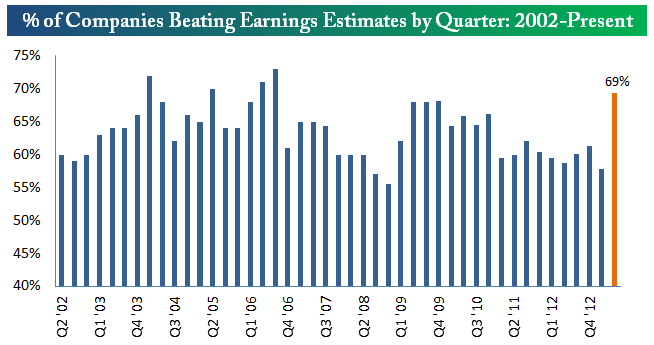 The recent move higher has largely been attributed to major companies announcing better-than-expected earnings. As the chart above from Bespoke Investment Group shows, the current earnings season is off to a strong start. Out of 150 companies reporting results so far, 69 percent have beaten earnings estimates. That is the best rate since the third quarter of 2006. The majority of companies have not reported yet, but the early momentum is being cheered by Wall Street.
International Business Machines (NYSE:IBM) — the biggest Dow contributor — reported earnings of $3.91 per share for the second quarter late Wednesday, easily beating estimates calling for $3.78 per share by analysts. Other blue chips, such as Bank of America (NYSE:BAC) and UnitedHealth Group (NYSE:UNH), also reported better-than-expected earnings.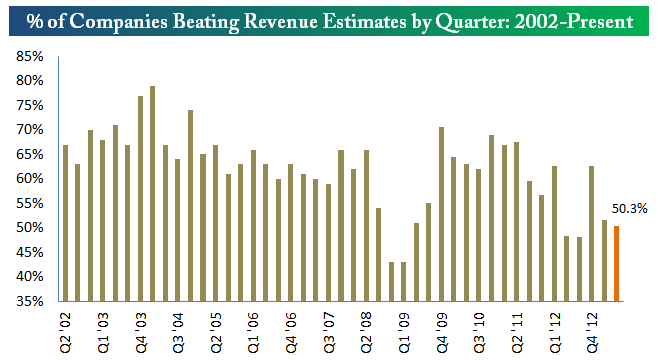 Despite the bottom-line beats, the top-line results have been disappointing, which has been the case in recent years. Only 50.3 percent of companies that have reported so far have topped revenue estimates, below the historical average. Results from technology companies have been especially dismal. IBM, Intel (NASDAQ:INTC), Yahoo (NASDAQ:YHOO), Google (NASDAQ:GOOG), and Microsoft (NASDAQ:MSFT) all missed on revenue.
Coming into earnings season, expectations were very low. Eighty-seven companies issued negative earnings per share guidance, compared to 21 companies that issued positive guidance. That is the worst level of companies issuing negative guidance since FactSet began tracking the data in 2006. However, the low expectations should help soften any weakness in the market this earnings season.
Here's how the 3 major stock indices finished trading this week:

Follow Eric on Twitter (@Mr_Eric_WSCS)
Don't Miss: 6 Changes From Marissa Mayer That Yahoo Is Celebrating.