Are Student Loans a Headwind for the Housing Market?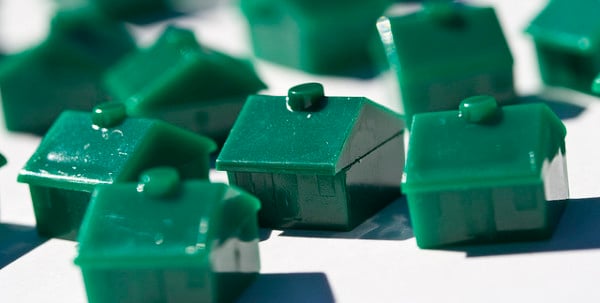 "Student loan debt is a concern for many consumers in today's market, especially first-time buyers," commented Gary Thomas, President of the National Association of Realtors, alongside the release of the 2013 National Housing Pulse Survey. "Buyers with student loan debt may find it difficult to access mortgage credit, as well as save for a down payment."
Now, more than ever, the real estate market is under the microscope. At a glance, it would be easy to assume that the 2008 financial crisis and housing market upset, combined with the relatively weak economic recovery that followed, has discouraged would-be homeowners. The housing market may have experienced a rebound from recession lows, but horror stories about illegal foreclosures still make headlines. What's more, many experts are still concerned that record-low interest rates and accomodative monetary policy could fuel regional housing bubbles.
The housing market has been hailed as one of the bastions of the current economic recovery, but home ownership — something that 68 percent of Americans still believe is a good financial decision — is still out of reach for many people.
"Homeownership is an investment in your future, and is how many younger American families begin to accumulate wealth," commented Paul Bishop, NAR vice president of research, in a July 9 statement. "The oldest of the Millennial generation are now entering the years in which people typically buy a first home, and despite the recent downturn, homeownership still matters to them. The sheer size of the Millennial generation, the largest in history after baby boomers, is expected to give a powerful boost to long-run housing demand, though in the short-term, mortgage accessibility and student debt repayment remain challenges."
According to the American Institute of CPAs, there were nearly 39 million adults in the United States with student loan debt at the end of 2012 — a 70 percent increase from 2004. At an average of $24,803 per loan, the total amount of outstanding student debt was more than $950 billion, greater than the total of all credit card debt, and second only to mortgages as a contributor to overall household debt.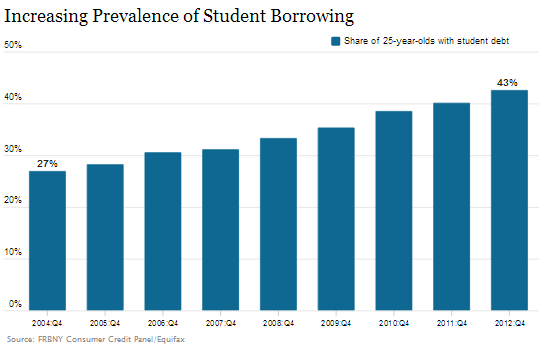 This seems to be the function of two complementary problems: the fact that the cost of college has more than quadrupled over the past 25 years, and that federal subsidized loans probably helped fuel the surge. Putting it one way, demand for a college education (real, perceived, or otherwise) has increased steadily over the past few years. The number of people attending college between 2000 and 2010 increased 37 percent, with much of the growth in full-time enrollment (compared to an increase of 11 percent in the previous decade).
Young Invincibles published a report called: "Denied? The Impact of Student Debt on the Ability to Buy a House." The report suggests that the average person with student debt would be ineligible for a mortgage because their debt-to-income ratio would be too high.
"In fact," states the report, "student debtors making the median salary for college graduates will struggle to qualify for the median mortgage for first-time buyers. Given that about one-third of homebuyers are single, and about 38 percent of first-time homebuyers are single, this limitation has the enormous potential of cutting off options for the growing number of single homebuyers."