Are the Dogs of the Dow Getting Revenge? Part 2
There are countless strategies to employ when investing in stocks. One of the easiest and most well-known strategies is called the Dogs of the Dow. The strategy requires investors to buy an equal amount of the ten highest yielding stocks found in the Dow Jones Industrial Average at the beginning of the year. The ten stocks are then replaced at the beginning of the next year with the new highest yielding stocks in the Dow.
It can be difficult for some investors to stomach this strategy, because investors are only paying attention to dividend yields, as opposed to many other fundamental factors. This strategy paid off well in 2011, but not so well in 2012, as the dogs lost their bite and fell behind the broad index.
Investors employing the dog strategy for 2012 missed large gains in blue-chips such as Home Depot (NYSE:HD) and Disney (NYSE:DIS), but also avoided the biggest losers such as Hewlett-Packard (NYSE:HPQ) and McDonald's (NYSE:MCD). Bank of America (NYSE:BAC), the biggest blue-chip loser in 2011, turned out to be the best performing Dow member with its share price more than doubling in only one year.
The current Dogs of the Dow are up an average of about 3.2 percent year-to-date, compared to a 2.1 percent increase in the overall Dow. Here's a look at the individual dogs for 2013 with the lowest yields and their current performance for the year…
Save time and make money with our LOWEST ADVERTISED PRICE EVER to help you achieve your financial goals in 2013. This is a LIMITED TIME OFFER, so get your Stock Picker Newsletter now!
DuPont (NYSE:DD): 1.8 percent

 Hewlett-Packard (NYSE:HPQ): 6.5 percent

General Electric (NYSE:GE): 0.70 percent

McDonald's (NYSE:MCD): 3.1 percent

Johnson & Johnson (NYSE:JNJ): 1.9 percent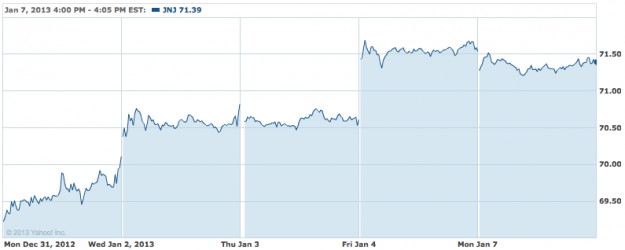 Investor Insight: Here are the Most Popular ETFs in the Market Now