Are the Market's Ugly Days Already Here?
Ugly action for Dow Jones Industrial Average as major support levels break.
Last week was rough for the Dow Jones Industrial Average (NYSEARCA:DIA) and other major U.S. stock indexes as major support levels were broken and multiple sell signals triggered.
On My Stock Market Radar
The Dow dropped 1.8 percent for the week and plunged through its 50-day moving average, generating a point and figure "sell" signal and a downside price objective of 14,050 as illustrated in the chart below. The Dow peaked with a closing record high of 15,409 on May 28 and an intraday high of 15,542 on May 22, so a drop to 14,050 would represent a decline of more than 1,300 points and approximately 9 percent from its recent record.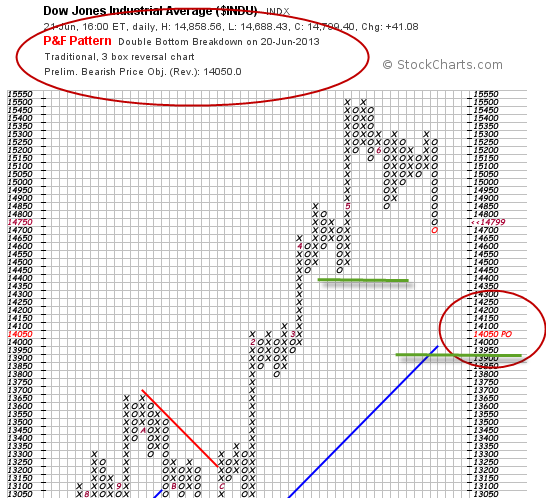 In the chart we can see the "double bottom breakdown" signal and the green lines indicate significant support levels at 14,450 and 14,000 that will need to be broken before a new bear market would be official.
A 20-percent decline from the recent high, traditionally thought of as the definition of a bear market, would happen with a decline below 12,327, while a break of the blue line at approximately 13,950 in the chart above would represent a longer term "sell" signal and the onset of a bear market using point and figure charting methodology.
The S&P 500 (NYSEARCA:SPY) fell 2.1 percent for the week, also punching through its 50-day moving average and posting a downside price objective of 1,500. Bear market sell signals would trigger at 1,500 on the S&P 500. Action on the Nasdaq (NYSEARCA:QQQ) was similar, with a breach of the 50-day moving average but no sell signal yet on the index's point and figure chart as the index gave up 1.9 percent for the week.
Oracle (NASDAQ:ORCL) hit the Nasdaq hard as it fell 9.2 percent after the company released weak quarterly earnings. However, the Nasdaq remains the strongest of the three major indexes. The Russell 2000 (NYSEARCA:IWM) got crushed along with the others and is now down approximately 3.6 percent from its June 18 high.
Major psychological support for the Dow was broken as the index sliced through 15,000, and for the S&P 500, which left 1,600 behind on Thursday and Friday.
The week's action was dominated by Federal Reserve news and innuendo, starting with the release of the FOMC interest rate announcement and Ben Bernanke press conference on Wednesday and ending with yet another missive from Fed "deep throat," The Wall Street Journal reporter John Hilsenrath, who wrote an article on Friday titled "Analysis: Markets Might Be Misreading Fed's Message."
Once again, Mr. Hilsenrath was credited for moving markets higher on Friday as he argued that interest rates weren't rising anytime soon and that current Fed plans are "easing your foot off the gas pedal" but not "pressing the brake."
Other big news was chaos in the bond market as the 10-Year Treasury yield (NYSEARCA:IEF) jumped to 2.5 percent last week with the Treasury showing intense volatility on top of the steady climb in yield that started in early May. This recent move represents a 50-percent jump in less than two months, which is bound to send shock waves through the home refinancing and buying markets.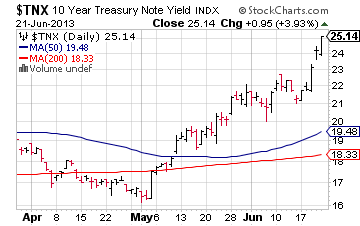 As everyone knows, rising interest rates will likely have a negative effect on important things like the recovering housing market, corporate profits and interest due on the national debt.
Stock Market News You Can Really Use
Aside from last week's intense downside action in the Dow Jones Industrial Average and other major indexes, major economic news was relatively positive. The June Empire State Index took a big jump to 7.8, up from last month's -1.4 and crushing expectations, while the Home Builders Index also climbed and beat expectations. Existing home sales also jumped higher and the June Philadelphia Fed leaped to 12.5 in June, up from the previous month's -5.2.
On the downside, weekly jobless claims jumped and Markit PMI was flat at 52.2, just staying in expansionary territory, while leading indicators declined.
This week brings a wave of important economic news:
Tuesday: Durable goods, Case/Shiller Index, consumer confidence, new home sales
Wednesday: Q1 GDP revision
Thursday: weekly jobless claims, personal income, personal spending
Friday: Chicago PMI, consumer sentiment
Bottom line: As Jim O'Neill, recently retired Chairman of Goldman Sachs Asset Management, said earlier this month, investors should expect turbulence in financial markets and "quite ugly" days ahead. Judging from last week's action, those "quite ugly" days could already be here.
John Nyaradi is the author of The ETF Investing Premium Newsletter.
Don't Miss: Want to Grow the Economy? Fix Immigration, Says Boehner.