Are the Super Rich Still Buying Stocks?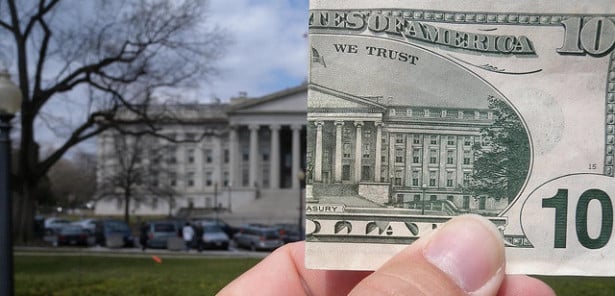 Many people across the country view the stock rally with a great deal of skepticism. Despite corporate profits soaring to record levels, Main Street remains plagued by high unemployment and stagnant wages. Add in the unprecedented amount of intervention from the Federal Reserve, and you have a recipe for mistrust. However, at least one group of investors is still bullish on the stock market.
With stocks climbing restlessly to fresh all-time highs this year, the super wealthy are not putting down the caviar and Chardonnay to sell their holdings. Members of Tiger 21, a premier peer-to-peer learning network for high net worth investors, held 24 percent of their assets in public equities at the end of the third quarter, up 1 percent from a year earlier, according to the group's latest allocation report. Tiger 21 has more than 200 members that collectively manage approximately $20 billion in investable assets.
"Allocations for Tiger 21 Members for the third quarter remained virtually unchanged, with five asset classes experiencing no change and the remaining asset classes shifting merely one percentage point from the previous quarter," the report said.
Public equities received the highest allocation percentage, followed by real estate (21 percent), private equity (19 percent), and fixed income (15 percent). Cash and cash equivalent rose 1 percentage point quarter-over-quarter to 11 percent but remained below the 13 percent median allocation since Tiger 21 began tracking the data five years ago. Allocation to commodities remained at only 1 percent for the sixth consecutive quarter.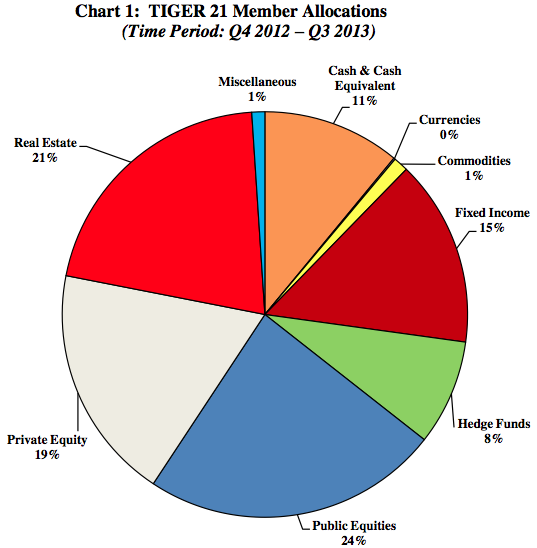 The partial government shutdown's effects were not included in this quarter's report. The shutdown lasted 16 days in October and cost the economy an estimated $24 billion, but other surveys suggest investors ignored the political bickering.
According to Charles Schwab, 85 percent of traders believe stock prices will either remain near current levels or continue to rise over the next three to six months. Meanwhile, 49 percent say buying equities still makes sense in today's market.
"While our clients understand that short-term market swings and political drama may cause discomfort in the short-term, these events are not catalysts for knee-jerk reactions when it comes to their portfolios," said Rodney Prezeau, senior vice president of client experience at Charles Schwab.
Don't Miss: Are Higher Stock Prices Juicing the Real Estate Market?
Follow Eric on Twitter @Mr_Eric_WSCS