Are These Gun Stocks Obama-Proof?
On Wednesday, President Barack Obama and Vice President Joe Biden rolled out a wide-ranging list of executive actions regarding gun control. The event took place at the White House with an audience that included children from across the country.
In addition to the executive actions, Obama called on Congress to: ban military-style assault weapons, ban capacities of more than 10 rounds, require background checks on all gun sales and create tougher penalties for those selling guns to people who are not legally allowed to have them.
Obama said, "We can't put this off any longer. This will not happen unless the American people demand it." He also vowed to use "whatever weight this office holds."
Despite the moves made by the Obama Administration, investors were pleased with the news. Gun-related stocks rallied across the board…
Start 2013 better than ever by saving time and making money with your Limited Time Offer for our highly-acclaimed Stock Picker Newsletter. Click here for our fresh Feature Stock Pick now!
Sturm, Ruger & Co. (NYSE:RGR):
The gun policy announcement began shortly before 12:00 p.m. ET and coincided with a large move in Ruger shares. As the chart below shows, the gunmaker made a clear reversal and climbed above $50 for the first time since early December.

Since 2008, shares have surged from only $8 to as high as $60. Last March, Ruger announced that it had to suspend the acceptance of new orders for the first time in company history, due to heavy demand. In the first quarter of 2012, the company received orders for more than one million units. In late May, it resumed the normal acceptance of orders, explaining that "Demand for our products is very strong, and the current backlog remains significantly above year ago levels. Our production and shipments in the first quarter of 2012 increased more than 50 percent from the first quarter of 2011 and remain very strong."
Another gunmaker shoots higher…
Smith & Wesson Holding (NASDAQ:SWHC):
The Massachusetts-based company also received a boost from Obama, as shares jumped more than 3 percent to $8.80.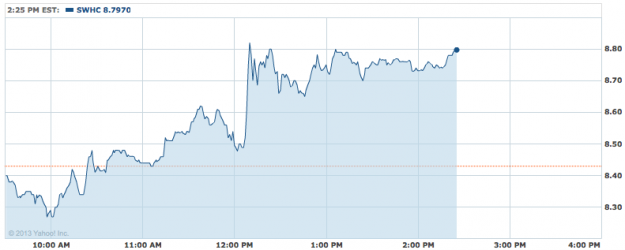 While the proposed gun restrictions will limit some sales, it will not destroy the gun industry. In fact, Obama is seen as the best gun salesman in history. The general thesis is that since Obama was re-elected, fears of tighter gun control laws have provided a catalyst for more gun sales, along with the tragic school shootings. According to an analysis of the gun industry by The Associated Press, the federal government has conducted roughly the same number of background checks for gun owners and prospective buyers under Obama's first term, as it did under George W. Bush's first six years of presidency. For the first time since 1993, the number of federally licensed retail gun dealers in the U.S. increased in 2010 and 2011, adding 1,167 more licensed dealers.
Major retailers also like the news…
Cabela's (NYSE:CAB):
One of the most well-known outdoor recreation brands in the world popped 6 percent in afternoon trading. Shares of Cabela's also hit their highest level since early December.
Cabela's started the trading day off strong and held unto gains, despite the sweeping gun measures. At a conference earlier in the day, Thomas Millner, president and chief executive officer, said Cabela's would adjust to whatever Obama introduces. He also believes any new restrictions would not harm business.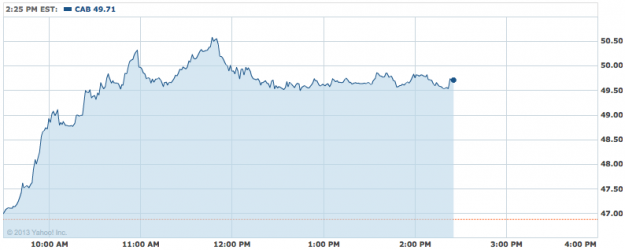 The company sells everything from guns to ammo, which are in record strong demand. Earlier this month, the FBI's National Instant Criminal Background Check System showed the agency performed nearly 2.8 million background checks on people in December. In 2012, the FBI conducted almost 20 million background checks, representing a 3 million increase from the prior year.
Shares of Wal-Mart (NYSE:WMT) and Dick's Sporting Goods (NYSE:DKS) also edged higher.
The most affected industry…
Activision Blizzard (NASDAQ:ATVI):
Judging by Wall Street's reaction, it appears that Obama was most successful in hindering the video game industry. Shares of Activision took a sharp turn lower.

The company owns and publishes the Call of Duty first-person shooter games, which are set to come under more scrutiny. Obama is reportedly asking for $10 million to be spent, in order for the U.S. Centers for Disease Control and Prevention to study the causes of gun violence, including video games and media images.
Here's a list of the 23 executive actions from Obama…
1. Issue a Presidential Memorandum to require federal agencies to make relevant data available to the federal background check system.
2. Address unnecessary legal barriers, particularly relating to the Health Insurance Portability and Accountability Act, that may prevent states from making information available to the background check system.
3. Improve incentives for states to share information with the background check system.
4. Direct the Attorney General to review categories of individuals prohibited from having a gun to make sure dangerous people are not slipping through the cracks.
5. Propose rulemaking to give law enforcement the ability to run a full background check on an individual before returning a seized gun.
6. Publish a letter from ATF to federally licensed gun dealers providing guidance on how to run background checks for private sellers.
7. Launch a national safe and responsible gun ownership campaign.
8. Review safety standards for gun locks and gun safes (Consumer Product Safety Commission).
9. Issue a Presidential Memorandum to require federal law enforcement to trace guns recovered in criminal investigations.
10. Release a DOJ report analyzing information on lost and stolen guns and make it widely available to law enforcement.
11. Nominate an ATF director.
12. Provide law enforcement, first responders, and school officials with proper training for active shooter situations.
13. Maximize enforcement efforts to prevent gun violence and prosecute gun crime.
14. Issue a Presidential Memorandum directing the Centers for Disease Control to research the causes and prevention of gun violence.
15. Direct the Attorney General to issue a report on the availability and most effective use of new gun safety technologies and challenge the private sector to develop innovative technologies.
16. Clarify that the Affordable Care Act does not prohibit doctors asking their patients about guns in their homes.
17. Release a letter to health care providers clarifying that no federal law prohibits them from reporting threats of violence to law enforcement authorities.
18. Provide incentives for schools to hire school resource officers.
19. Develop model emergency response plans for schools, houses of worship and institutions of higher education.
20. Release a letter to state health officials clarifying the scope of mental health services that Medicaid plans must cover.
21. Finalize regulations clarifying essential health benefits and parity requirements within ACA exchanges.
22. Commit to finalizing mental health parity regulations.
23. Launch a national dialogue led by Secretaries Sebelius and Duncan on mental health.
Investor Insight: Post-Fiscal Cliff: Congress Less Favorable Than Cockroaches