Are These Numbers a Warning For the Labor Market?
Since reaching an all-time high of 670,000 in March of 2009, initial claims for unemployment benefits dropped to a five-year low for the week ended May 4, seeming to indicated that layoffs were back to pre-recession levels and that employers were confident enough in current economic conditions to hold onto workers. But, following the typical recovery pattern, jobless claims jumped up once again for the week ended May 11, providing a warning sign for the labor market.
The number of Americans filing new claims increased by 32,000 to a seasonally adjusted 360,000, the Labor Department reported on Thursday. That figure represented the largest spike since November and confounded analysts who were expecting a slighter increase. Economists had expected jobless claims to rise to 330,000.
The United States economy had shown signs that growth slowed late in the first quarter and through April following the federal government's turn toward austerity; Washington ended the payroll tax holiday in January and implemented across-the-board spending cuts in March. Still, in the past several weeks, data on jobless claims has been a relatively bright spot in the U.S. labor market so analysts will likely be cautious of reading too deeply into this week's discouraging numbers.
The weekly figures can be volatile, so economists use the four-week moving average to understand wider trends. Last week, that figure also rose, increasing to 339,250, even though it remained close the lowest level recorded since the start of the 2007 to 2009 recession.
Despite the spending cuts and payroll tax hike, the job market has remained fairly resilient so far this year; employers added an average 151,000 jobs in March and April, a decrease from the 332,000 added in February but more than initial estimates. However, unemployment still lingers; the unemployment rate sits at 7.5 percent and 11.7 million remain unemployed.
The backdrop of the labor market — the broader economy — showed a mixed picture this week. The government reported that factory output dropped sharply last month, while retail sales made a slight, though unexpected, gain.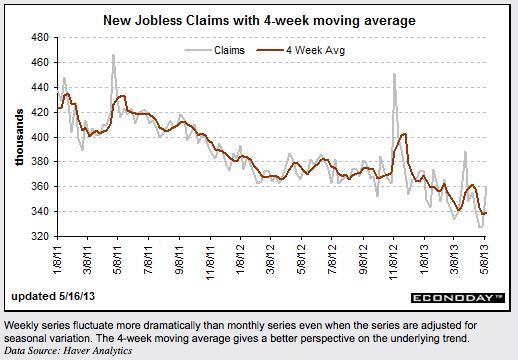 You can follow Meghan on Twitter (@MFoley_WSCS) for the latest industry news.
Don't Miss: IRS Mess: Just What Lines Did the Tax Body Cross?