Are You a Wear-and-Return Shopper? Not at Bloomingdale's, You're Not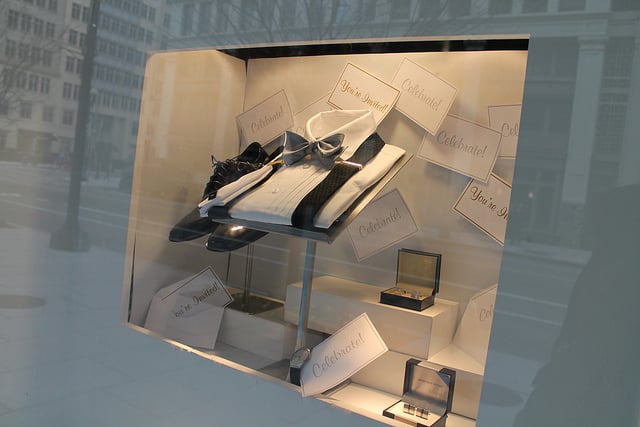 Consumers may like to think they're beating the system when they pay for merchandise, wear it once, and then return it the next day, but department stores aren't ignorant to the "wardrobing" phenomenon. In fact, they're more than well aware of the practice, considering it cost the National Retail Federation $8.8 billion last year. And now, according to Bloomberg, Bloomingdale's, owned by Macy's Inc. (NYSE:M), is ready to put an end to it.
The popular department store chain is combatting wardrobing by implementing a new tagging strategy that places 3-inch black plastic devices in visible places on the store's garments. Bloomingdale's used to only employ this tagging approach to prevent theft, but now it is extending the tags' use by keeping them on the garments after they're sold, as well, effectively preventing shoppers from wearing and then returning the clothing.
The tags are purposely placed in obvious places on Bloomingdale's garments, such as on the front bottom hemline, and thus cannot be hidden by shoppers — nor can they return the items unless the tags are still attached.
Though this strategy has helped Bloomingdale's curtail the rise of wardrobing, Bloomberg also highlights that it is a risky move for the retailer to take because it highlights the department store's mistrust of its customers. Retailers must keep their customers satisfied, but shoppers also have to be kept accountable. Rich Mellor, vice president of loss prevention at the National Retail Federation, explained this to Bloomberg as such: "It is a delicate balance of loss prevention and good customer service, and the relationship has to be handled with appropriate finesse."
Thus, Bloomingdale's strategy is no doubt a gamble. However, the retailer is evidently willing to run that risk, especially as the wardrobing phenomenon gains popularity. According to Bloomberg's report, 65 percent of retailers in the NRF's November survey reported that they experienced wardrobing casualties last year, and that figure is up from 61 percent a year earlier. The practice is especially devastating to retailers because it keeps them from reselling soiled or outdated items, and they also can't sell the worn merchandise to off-price retailers.
Unsurprisingly, consumers have already taken note of Bloomingdale's tagging changes and are not happy. The department store has been forthcoming about its new strategy, making it clear to shoppers in the store and online that the merchandise will arrive tagged, but that hasn't kept customers from taking to the Internet to complain about the new policies.
Bloomingdale's rival, Nordstrom (NYSE:JWN), on the other hand, has decided against the overhauling of its tagging techniques despite the rise in wardrobing. For now, Bloomingdale's is running the risk of losing significant business to its competitor, but it looks like that is one chance the department store is willing to take.
Don't Miss: Starbucks: No Guns on Premises, Please.