Are You Brave Enough to Invest in Cotton?
Although Barclays Capital (NYSE:BCS) released a report recently that inflows into commodity markets fell sharply as the first half of 2011 ended, commodities in general have shown strength.  However, cotton has fallen far from its 2011 peak. Shares in The iPath DJ UBS Cotton ETN (NYSE:BAL) now trades around $64, after reaching a 52-week of $117.33 in March of this year.  Can cotton rebound from these levels?
Earlier in the week, the U.S. Department of Agriculture (USDA) reported that about 41% of U.S. cotton crops are in very poor or poor condition.  Last year, only 8% of cotton crops were in very poor or poor condition.  Also, the USDA revised its outlook for U.S. cotton production to 16 million bales, down from previous estimates of 17 million bales.  The recent reports on cotton have been enough to send cotton prices higher for three consecutive days.
However, investors shouldn't get their hopes up just yet. Yesterday, the USDA released more data on cotton, but this time it painted a bearish picture. For the week ended July 21, importers of upland cotton cancelled orders for 64,133 bales of cotton. Total global cotton demand for the current crop year will be 1.7% less than perviously estimated. This new report from the USDA sent cotton prices lower for the first time all week. The chart below shows the price movement in the cotton ETN (NYSE:BAL).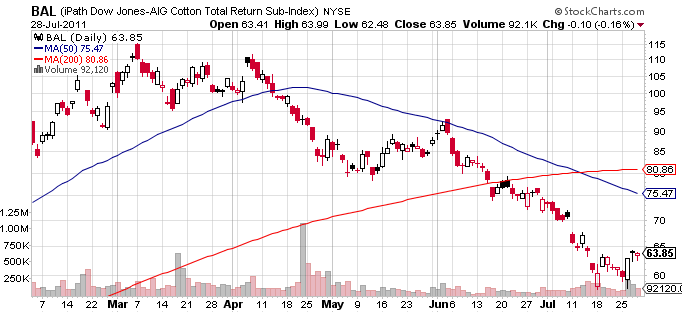 Investors would prefer to avoid falling knives may want to consider other commodities such as oil (NYSE:USO), natural gas (NYSE:DVN), coal (NYSE:KOL), gold (NYSE:GLD), silver (NYSE:SLV), or aluminum (NYSE:AA).
Do you want to profit from commodities and agribusiness? Get a free copy of our highly acclaimed Commodities Premium Investment Newsletter.
Disclosure: Long AGQ.