Are Your Income Taxes Fair?
With the official tax deadline in the rear view mirror, many Americans can now reflect on how much they paid Uncle Sam. If you feel like you are paying more than your "fair share," you are not alone.
Unsurprisingly, Americans are losing faith in the fairness of income taxes. According to the latest Gallup survey, only 55 percent of Americans regard the income tax they pay as fair, the lowest reading since 2001. The results are based on Gallup's Economy and Personal Finance poll and includes adults from all 50 states. It was conducted in the early part of April.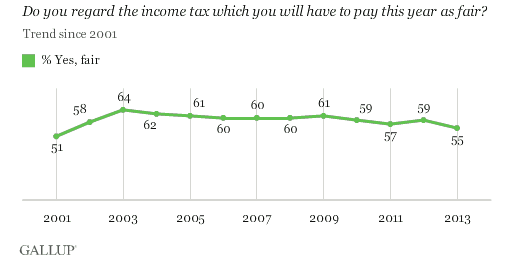 As the chart above shows, the recent high in Americans' perceptions about their taxes being fair hit 64 percent in 2003, when President Bush signed tax cuts into law and shortly after the Iraq war began. However, perception has been trending downward ever since.
Gallup has been posing tax questions to the public since the 1940s. Few Americans complained about their taxes during World War II, with 87 percent saying their taxes were fair between 1943 through 1945. Immediately after the war in 1946, that figure dropped to 61 percent. In the late 1990s, the average declined to 48 percent with a historical low of 45 percent being reached in 1999.
Political party has the biggest impact…
Income appears to have little impact on attitudes towards income taxes. Fifty-seven percent of those with an annual household income level below $75,000 said their taxes were fair, very similar to the 54 percent of those with income above $75,000. Gallup also finds that demographic groups do not show a notable difference, but political affiliation certainly impacts feelings.
Democrats and political liberals were much more likely than Republicans and conservatives to say their taxes are fair. Sixty-six percent of Democrats said their taxes were fair, compared to only 49 percent of Republicans. Meanwhile, 70 percent of liberals felt like their taxes were fair, well above the 45 percent from conservatives.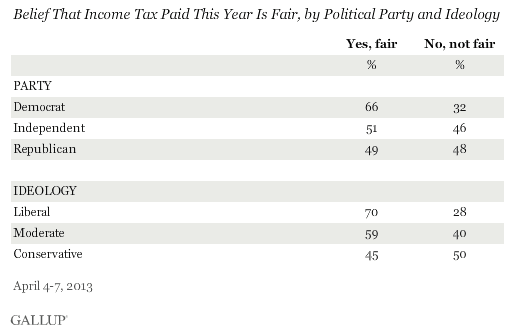 Gallup notes, "The gaps by party and ideology have expanded modestly since President Barack Obama took office. In 2008, the last full year of the Bush administration, 67 percent of Democrats and 55 percent of Republicans said their taxes were fair, a gap of 12 percentage points, compared with 17 points today. In 2003, the recent high point in Americans' belief that they pay fair taxes, there were essentially no party differences (66 percent among Democrats, 62 percent among Republicans)."
Overall, half of Americans say their income taxes are "too high," with 45 percent saying they are about right. Last year, 46 percent of Americans said their taxes were too high, which ties the record-low set in 1956.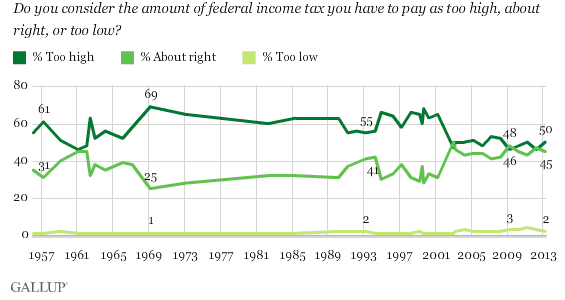 According to Gallup, Americans are also more likely (64 percent) than last year (53 percent) to believe that their taxes will climb higher over the next 12 months. Only 31 percent expect no change.
How much do people pay…
Citizens for Tax Justice recently looked at how much Americans pay in taxes with regards to income levels. The organization finds that the tax system is just barely progressive when considering federal, state, and local taxes in 2013. As the chart below shows, each income group will pay a share of total taxes that is very similar to the share of total income received by that group.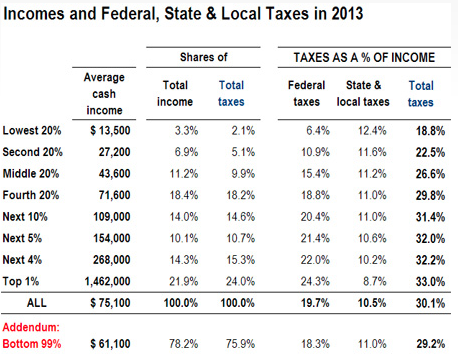 The top 1 percent of Americans will pay 24 percent of total taxes and receive 21.9 percent of total income, while the poorest fifth of Americans will pay 2.1 percent of total taxes and receive 3.3 percent of total income.
The CTJ notes, "Everyone in America pays taxes. Everyone who works pays federal payroll taxes. Everyone who buys gasoline pays federal and state gas taxes. People who shop in stores pay the sales taxes that most state and local governments impose. State and local property taxes affect everyone who owns or rents a home. (Even renters pay property taxes because landlords pass some of the tax on to them in the form of higher rents). Most states also have income taxes, most of which are not particularly progressive."
Don't Miss: Will Credit-Card Debt Sink Your Retirement?