Ariba Earnings: Net Income Breaks Even
Ariba, Inc. (NASDAQ:ARBA) reported a lower net income in second quarter. Ariba, Inc. is a provider of collaborative business commerce solutions for buying and selling goods and services.
Don't Miss: Wall St. Cheat Sheet's newest Feature Trades of the Month!
Ariba Earnings Cheat Sheet for the Second Quarter
Results: Net income for Ariba, Inc. fell to break even vs. $5.8 million (6 cents/share) a year earlier.
Revenue: Rose 24.8% to $108.8 million YoY.
Actual vs. Wall St. Expectations: ARBA reported adjusted net income of 19 cents per share. By this measure, the company fell in line with the mean analyst estimate of 19 cents/share. Estimates ranged from 18 cents per share to 19 cents per share.
Quoting Management: "A year ago, Ariba laid out a new vision for business commerce that extends process collaboration, transparency, and efficiency beyond the four walls of the enterprise, and we expanded our solution set to make it a reality for companies of all sizes," said Bob Calderoni, Chairman and CEO, Ariba. "As evidenced by our solid second quarter, we are executing against this vision, as an increasing number of buying and selling organizations around the world are leveraging the strength of the Ariba community and our offerings to drive better commerce."
Competitors to Watch: SciQuest, Inc. (NASDAQ:SQI), Oracle Corporation (NASDAQ:ORCL), Intl. Business Machines Corp. (NYSE:IBM), Bottomline Technologies (NASDAQ:EPAY), Manhattan Associates, Inc. (NASDAQ:MANH), Vocus, Inc. (NASDAQ:VOCS), American Software, Inc. (NASDAQ:AMSWA), Deltek Inc. (NASDAQ:PROJ), Selectica, Inc. (NASDAQ:SLTC), and MER Telemanagement Solutions Ltd. (NASDAQ:MTSL).
Today's Performance: Shares of ARBA are up 0.19% in after hours trading.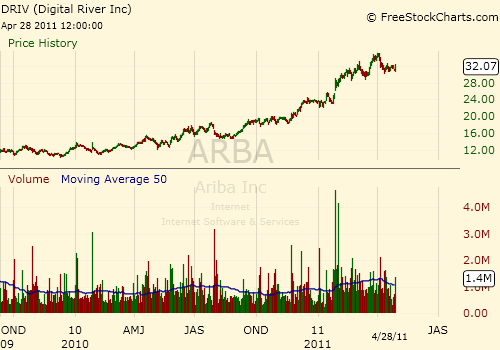 Don't Miss Wall St. Cheat Sheet's newest Feature Trades of the Month!