Arkansas Best Corporation Earnings: Not the Best Transportation Company Today
Arkansas Best Corporation's (NASDAQ:ABFS) first quarter loss narrowed due mainly to positive revenue growth. Arkansas Best Corporation is a holding company through its subsidiaries is engaged in motor carrier transportation operations.
Don't Miss: Wall St. Cheat Sheet's newest Feature Trades of the Month!
Arkansas Best Earnings Cheat Sheet for the First Quarter
Results: Loss narrowed to $12.8 million (loss of 51 cents/diluted share) by 40.1% from a loss of $21.4 million (loss of 85 cents/share) in the same quarter a year earlier.
Revenue: Rose 20.9% to $434.9 million YoY.
Actual vs. Wall St. Expectations: ABFS fell short of the mean analyst estimate of a loss of 21 cents/share. Estimates ranged from a loss of 6 cents per share to a loss of 32 cents per share.
Quoting Management: "With the upturn in the economy and significantly less capacity serving the industry, the opportunities for ABF to grow profitably this year are favorable," said Judy R. McReynolds, Arkansas Best President and Chief Executive Officer. "Shippers are becoming more concerned about having transportation capacity to deliver their products. In this environment, shippers look to carriers like ABF who offer reliability, safety and a high level of customer service. ABF's reputation for dependability and consistency is valued in the transportation marketplace and is an advantage in seeking to gain additional, profitable business during this period of economic improvement."
Competitors to Watch: YRC Worldwide Inc. (NASDAQ:YRCW), Saia Inc. (NASDAQ:SAIA), Con-way Inc. (NYSE:CNW), Roadrunner Transportation Services Hold. (NYSE:RRTS), J.B. Hunt Transport Services, Inc. (NASDAQ:JBHT), Old Dominion Freight Line (NASDAQ:ODFL), Velocity Express Corp. (VEXPQ), USA Truck, Inc. (NASDAQ:USAK), AutoInfo, Inc. (AUTO), and Celadon Group, Inc. (NYSE:CGI).
Today's Performance: Shares of ABFS are trading at $24.92 as of April 25, 2011 at 8:22 AM ET, down 1.7% from the previous close.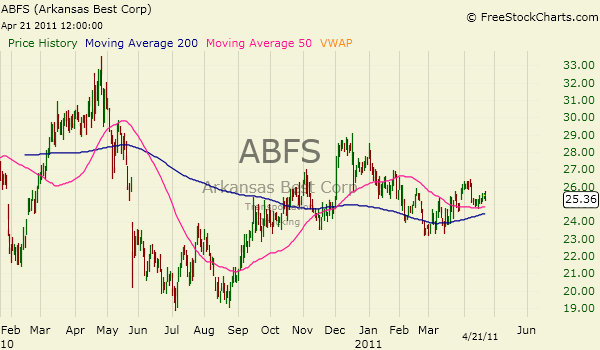 Don't Miss Wall St. Cheat Sheet's newest Feature Trades of the Month!