Around the World in 25 Days: International Christmas Traditions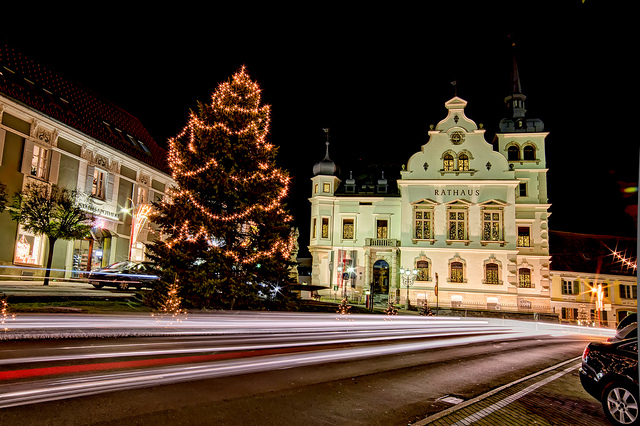 When it comes to cultural eccentricities, Christmas traditions are a great leveler. For the last 150 years, much of the Western world's warm and fuzzy holiday spectacles have featured a jovial, red-robed protagonist capable of defying time and space to bestow all good children with gifts. Halls are decked with holly, chestnuts are roasted by the fire, and classic tunes provide the merry soundtrack for carefree familial debate. White or dark meat? Xbox One or PlayStation 4?
Meanwhile, Europe features more mature holiday celebrations. Evil spirits conjured from ancient folklore are unleashed upon the festive consciousness, creating a holiday experience more reminiscent of our Halloween. In Austria, Santa's arch-nemesis, who goes by the name of Krampus, dominates the proceedings. In England, December 24 brings the archetypal 'Nightmare Before Christmas' when children shiver with excitement and fear as parents tell Victorian ghost stories by the fire. In Portugal, the traditional feast Consoda is enjoyed by all the family, including the dead, for whom a place is still set at the table. Italy has La Befana, the bulbous-nosed witch figure who travels on her broomstick on January 5 lavishing festive treats upon Italy's well-behaved children. Celebrations in her honor culminate with the Regata delle Befane when men dress up as the beloved crone before embarking on a boat race along Venice's Grand Canal — an unlikely twist on Shakespearean cross-dressing.
Clearly, 'oddness' is a relative concept, and America has its own festive idiosyncrasies. The most popular Christmas song ever, "White Christmas," was penned by one Jewish believer called Irving Berlin. In one state, Christmas is about peace, goodwill, and the right to bare arms. One Arizona gun store in 2011 invited customers of all ages to 'Get Your Picture Taken With Santa and His Machine Guns,' which makes marauding Austrian devils seem quite a healthy dose of fun by comparison. Here are just five of the most unique Christmas traditions from around the world.

Austria
As Halloween's popularity testifies, cheer laced with fear makes for a riotous festive spirit. In Austria's chocolate box towns, an absurd parade unites the fuzzy charms of Saint Nicholas with his grotesque alter ego — the supernatural beast known as Krampus. On Christmas Eve, local men don hirsute costumes that include goat-horns, creepy masks (often with Led lights), and mismatched shoes (a nod to the Krampus's single cloven hoof) for the main holiday event — the "Running of the Krampus."
According to European folklore, the Krampus would whip, spank, beat, and even toss into the flames of Hell the bad apples of the clan until they vowed to be good. Nowadays, fur-clad Austrians drink hot punch, make merry around the fire, and wait for the wild rumpus to begin. Armed with birch sticks to beat their victims and trailing rusty chain and shackles, the Krampuses roam the streets taunting the 'bad' children who are thankfully spared from flagellation and, instead, receive presents from St. Nick who follows behind. 

Catalonia, Spain
The best selling nativity figurine in Barcelona is the Caganer, or "Crapper," quite literally. Dressed in traditional peasant attire with his trousers around his knees, the defecating man or woman — Catalonia's 18th century symbol of fertilization and prosperity — usually lurks just behind the manger. The Caganer's numerous iterations — most notably, defecating nuns, English queens, and Presidents — yes, you can buy a Barack Obama figurine in time for next year – seem to testify to Catalonia's puerile or, arguably, surrealist sense of humor. Indeed, Salvador Dali, the most famous Catalan of them all, was more than a little obsessed with scatology.
Catalonia's reverence for the Caganer runs deep. The riots that followed government austerity measures in 2013 had nothing on the uproar caused in 2005 when Barcelona's city council commissioned a nativity scene without the Caganer. Catalans viewed the omission as an attack on their traditions and a campaign called Salvem el Caganer (Save the Caganer), resulted in the restoration of the Caganer just in time for the 2006 festive season.
In a similar vein, the Caga Tío — the little log with a smiley face, wearing the traditional red Catalan hat — is rolled out to rapturous applause on December 8. Yes, it's the 'Crapping Log,' and until Christmas Eve, each child must ensure that their log receives sufficient nutrition. The more the Caga Tío is fed, the more presents he will excrete on Christmas day. Just in case Caga Tío needs encouragement, children are given sticks to thrash the log into submission.

Japan
Marketing has a lot to answer for when it comes to festive feasts. Japan's Christmas lunch is a case in point. In Japan during the 1970s, when American expats failed in their quest to find Christmas turkey and satisfied themselves instead with buckets of finger lickin' goodness, it didn't take long for Colonel Sanders to tap into the niche market represented by the Japanese Christians who make up one percent of Japan's population.
KFC marketers launched quite a brilliant advertising campaign that cultivated the notion that fried chicken (best enjoyed in a big red bucket) was the traditional fowl of choice for middle-class Americans at Christmas. Now, supersize portions of Kentucky Fried (and 'corn potage' — deep fried soup) are sold to Japanese families who often put in their orders two months ahead of time.

Peru
While we tend to think of Christmas as a time of peace for all people, on December 25 in the Tankaya highlands of Peru, villagers dressed in Andean costumes like to spend the day punching each other's lights out. The origin of this Andean ritual known as Takanakuy is rather nebulous, but it certainly predates Spanish colonial rule and is intended to settle scores old and new — even children like have a go at beating up their friends.
Combat is accompanied by traditional Quechua dancing, music, and free-flowing liquor. Fights continue (well beyond the odd bloody nose or bust lip) until an assigned 'judge' decides, with more than a little partiality, in one man's favor. The loser is inclined to resettle that particular score the following year.

Venezuela
As a continent of devout believers, Latin America takes its Christian traditions very seriously — for the most part. Religious fervor intensifies between December 16 and December 24 as Venezuelans make their early morning sorties to mass.
But, there's a twist. The night before each service, custom dictates that children attach a piece of string to their big toe and dangle the other end out of their window. The next morning, before 8 a.m., the streets of Caracas are transformed into pedestrian-only thoroughfares and the city plays host to one of the world's most bizarre pilgrimages: churchgoers get kitted out in their roller gear and skate to church, giving a gentle tug to all the strings along the way.
Don't Miss: Will the Inflation Grinch Show Up This Christmas?