Aruba Networks Supplies Wireless LAN to Red Robin and 2 Other Hot Stocks to Watch
Aruba Networks (NASDAQ:ARUN): Current price $13.35
On Monday, Aruba said that it is supplying Wireless LAN infrastructure for 330 Red Robin restaurants across the United States in support of new multimedia training programs for all new hires. The network enhancement includes the addition of Aruba access points and its AirWave Network Management System, which not enables new video intensive training programs, and also permits the use of iPads for restaurant managers to help them enhance day-to-day restaurant business operations.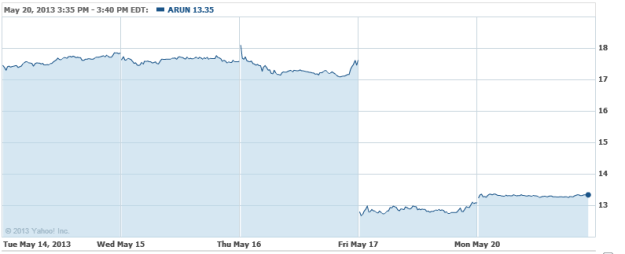 SunPower Corp. (NASDAQ:SPWR): Current price $22.75
The domestic solar manufacturer's Chief Executive Tom Werner believes that photovoltaic panels will become a standard feature in new home construction in the United States. SunPower supplies seven out of the top 10 home builders, including Lennar Corp., KB Home, and Standard Pacific Corp., said Werner, and also that nearly 10,000 new homes have panels from his company. Werner added that SunPower intends to double its customer base to 300,000 rooftop systems on homes and businesses by 2015 from 150,000 in 2012 as demand for smaller systems outstrips installations of large, utility-scale solar farms.

ACADIA Pharmaceuticals (NASDAQ:ACAD) Current price $14.22
ACADIA has been chosen for addition to the NASDAQ Biotechnology Index, effective prior to Monday's market open. The Index was created to track the performance of a set of NASDAQ-listed securities which are classified as either biotechnology or pharmaceutical according to the Industry Classification Benchmark. ACADIA is a biopharmaceutical firm that concentrates upon innovative treatments that address unmet medical needs in neurological and related central nervous system disorders.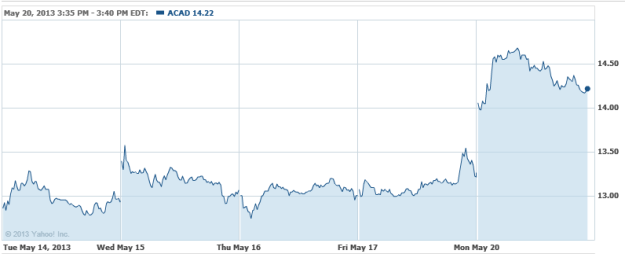 Don't Miss: Here's How These New Releases Will Affect Entertainment Stocks.