As S&P Rallies 5.5% off Near-Term Lows, Can More Fireworks Fuel Trading Week Ahead?
The stock market certainly delivered some pre-Holiday fireworks with the Dow (DIA) gaining 648 points to log its best week in approximately two years.
The move came in response to "relief" over a Greece "solution" which we'll discuss in more detail in a moment, and on thin Holiday volume which, in my opinion, made the rally less impressive than would otherwise be the case.
The coming Holiday shortened week promises to be exciting, as well.
On My Wall Street Radar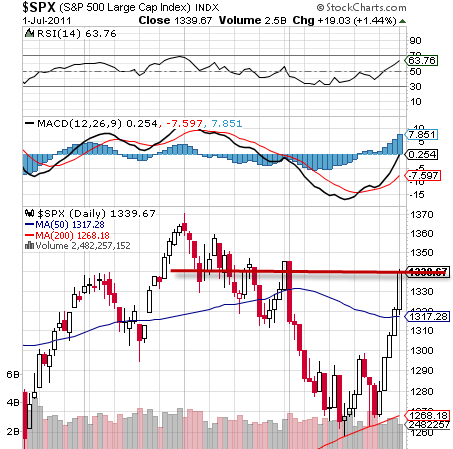 The sharp rally last week took prices back into heavy resistance as witnessed on the S&P 500 (NYSE:SPY) chart above.  You can see how MACD is in an upward trend and RSI is reaching overbought levels.
Also, there were several gap opens during the week which are typically "filled" at some point in the future. In spite of the fireworks, we're still very much locked inside the recent sideways pattern.
The Economic View From 35,000 Feet
The economic view remains troubling as the rally was based largely on a "Greek solution."
Unfortunately, this is the nightmare that won't stop, as today, S&P dulled the 4th of July festivities by saying that the French proposals last week for rolling over some of the Greek debt would, in fact, be considered a "selective default."
Furthermore, the unions and populace continue to protest the upcoming cuts and unemployment situation and so, overall, it's very difficult to see a good way out of  this situation.
Since much of the debt involved here is held by the European Union, IMF, Germany, France and Italy and includes a "who's who" of European banks including Deutsche Bank (NYSE:DB), Commerzbank, Societe General and RBS (NYSE:RBS), it's easy to understand why there is so much scrambling going on to save this sinking ship.
A hiccup here could, as we've discussed many times before, be a disaster for Europe and the global economy.
Finally, well known analyst, Dr. Martin Weiss, does a great job of outlining how risk of Greek default is higher than ever and how such a default could crush U.S. banks and even money market accounts in his article, "Why the Great Greek Tragedy Has Barely Begun."
In other global economic news, China's PMI fell to 50.9 from 52 in May and so is on the edge of contraction/recession while their private HSBC PMI report slipped to its lowest level since February, 2009, their non-manufacturing PMI slipped to 57 in June from 61.9 in May.
At home, the news remains mixed, as well.
1. On the positive front, ISM and PMI unexpectedly expanded.
2. Unemployment remained virtually flat.
3. University of Michigan consumer sentiment edged down in June.
4. Minnesota shut down its government over a budget squabble and $5 Billion deficit that resulted in 22,000 layoffs and sounds much like the national debate over tax increases and spending cuts.
5. Treasury Secretary Tim Geithner says he might be leaving office.
6. The deadline for the budget resolution of Aug. 2nd continues to steadily approach and reports indicate that a settlement must be reached no later than July 22nd to allow time for passage by the Aug. 2nd deadline.
Finally, one of my favorite writers, Doug Short, points out that according to the "Q Ratio," developed by Nobel Laureate, James Tobin, the market is currently 48-60% overvalued and at levels corresponding to several major previous market tops.
What It All Means for Stock Market and ETF Investors
What this all means for us as stock market and ETF Investors is that we continue to live in treacherous times and significant downside risk exists heading into the Third Quarter.
The Business and Financial News Week Ahead
Some more important news ahead this week with the climax on Friday with the Non Farms Payroll report.
Tuesday: May Factory Orders
Wednesday: June ISM Non Manufacturing
Thursday: ADP Employment Report, Initial Unemployment Claims, Continuing Claims
Friday: June Non Farm Payroll, June Unemployment, May Wholesale Inventories
ETF Spotlight
Leaders: (NYSE:EWD) Sweden (NYSE:EWP) Spain
Laggards: (NYSE:IEF) 7-10 Year U.S. Treasury (NYSE:GLD) Gold
On this 4th of July Holiday weekend, we all take time out to celebrate with family and friends the signing of the Declaration of Independence on July 4, 1776.
This is a particularly emotional one for our family as last Thursday, we were in Annapolis, Maryland, where my youngest son participated in Induction Day at the U.S. Naval Academy and began his first day of Plebe Summer.
Attending the Navy Academy has been his dream since he was about ten years old and, of course, as parents we're excited for him and for his future.
Also, I can tell you that the American future is sound and secure as this impressive institution trains our future leaders. As I looked out over the sea of white uniforms and the Navy F-18 Hornet fighters flew a low pass overhead, one could only say, "God bless America."
Disclosure: No positions in ETFs or stocks discussed in this article.
John Nyaradi is the author of Super Sectors: How To Outsmart the Markets Using Sector Rotation and ETFs
Improve Your 2011 Financial Health: Join the winning team of stock pickers with Wall St. Cheat Sheet's acclaimed premium newsletter >>