As U.S. Energy Boom Begins, Is Exxon a Good Buy?
Just two years ago, Exxon Mobil (NYSE:XOM) vied with Apple Inc. (NASDAQ:AAPL) for the title of the world's most valuable company. Apple has surpassed Exxon in terms of market capitalization, but Exxon remains a corporate powerhouse. It has the second highest market capitalization in the world at $407.51 billion. With that being said, we will use our CHEAT SHEET framework to decide whether Exxon is an OUTPERFORM, WAIT AND SEE, or STAY AWAY. Let's analyze the stock with the relevant sections of our CHEAT SHEET investing framework:
Catalysts
There is no time like the present for American oil and gas companies. As of May 31, the United States is producing more oil than it imports—an occurrence that it has not experienced in sixteen years. The big guns in the oil and gas industry stand poised to gain from America's burgeoning energy independence.
Exxon Mobil is the largest publicly traded oil and gas company. It is an international powerhouse for oil production and distribution, manufacturing 3 percent of the world's oil. Quarterly revenues have been mostly positive over the past three years. Exxon has benefitted from rising oil prices and new technological developments in oil production: fracking and horizontal drilling. Two key decisions coming from Washington in the coming months could provide a surge in company profits if they go Exxon's way. Shareholders and potential investors should keep a close eye on developments concerning the Keystone XL pipeline and the decision as to whether US oil companies will be able to export natural gas. If both of these decisions play out in Exxon's favor the company should see unprecedented growth in profits.
The sharp increase in domestic oil production benefits the United States' balance of trade, but we have yet to see if the increased supply of domestic oil will put downward pressure on prices. A fall in oil prices will clearly hurt Exxon's profits. Additionally, because of the lingering weak macroeconomic conditions from the financial crisis, worldwide demand for oil has been subdued.
Let's use some fundamental analysis to help determine whether Exxon is an OUTPERFORM, WAIT AND SEE or STAY AWAY.
Fundamentals
Despite a slight decline in operating cash flow growth over the past several quarters, Exxon's balance sheet is strong. The company is sitting on around $10 billion in cash — enough to cover its yearly dividend payout four times over. The company generates a lot of cash without much debt; its debt-to-equity ratio is 0.08, which is low relative to its competitors. Moreover, Exxon's debt is rated AAA suggesting that the possibility of default is close to zero.
Last year, Exxon Mobil's return on capital was 25 percent, the best in the industry. This metric is especially important to consider when analyzing oil and gas companies because the industry is very capital-intensive. Exxon's dividend yield is 2.88 percent, low by some standards. However, the company stresses dividend growth, so investors can expect to see larger dividends in the future.
Insider trading activity can provide helpful information to investors about the current valuation of a stock price and whether the stock is poised for growth. Generally, insiders buy stock when they think the share price is undervalued or they see exciting growth prospects in the company. With this being said, Exxon's Vice President Patrick Mulva recently bought $979,000 worth of Exxon stock, so we can infer that the vice president believes either that the share price will rise or the stock is undervalued.
Technicals Are Mixed
At Friday's close of $90.58, Exxon is currently trading slightly below its 50-day moving average of $90.73 but above its 200-day moving average of $89.35. Generally, when a stock trades above its 200-day moving average, the stock is experiencing an uptrend. Investors should keep an eye on the share price in relation to the 50-day moving average. If the stock price breaks through the 50-day moving average, Exxon may be beginning an uptrend.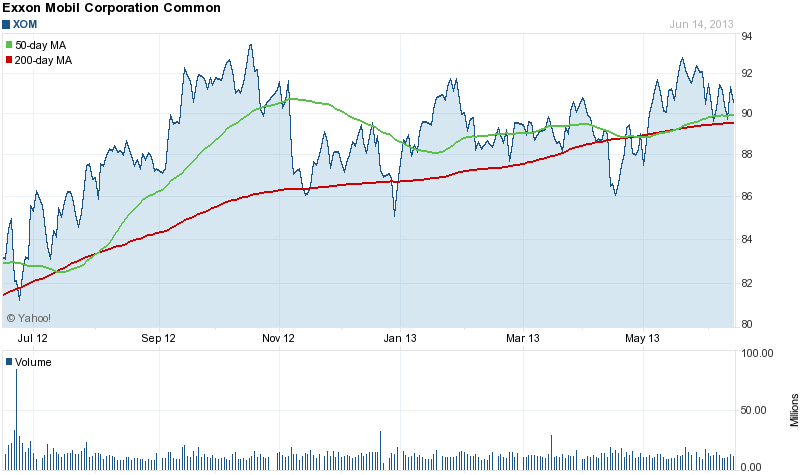 Conclusion
While Exxon has been in the news recently for disasters that you would think would lower the stock price (the state of Arkansas sued Exxon today for a March pipeline spill), these events are unavoidable occurrences in the industry and do not do much to affect the company's stability in the long run. What will affect Exxon's future profitability is its ability to withstand potentially sharp declines in the price of oil. Exxon is based in the United States but is a huge multinational corporation, supplying 3 percent of the world's oil. Even if oil prices fall in the States or demand falters in emerging markets, Exxon is so large and diversified that these events are unlikely to affect their long-term profitability. With its strong free cash flow growth, minimal debt, a history of selecting profitable oil exploration projects, and an attractive dividend growth rate for investors, Exxon looks poised to cash in on the energy renaissance emerging in the United States. If you are looking to add a low risk oil giant to your portfolio, Exxon Mobil is an OUTPERFORM.
Using a solid investing framework such as this can help improve your stock-picking skills. Don't waste another minute — click here and get our CHEAT SHEET stock picks now.