At UPS, Working Spouses Are Losing Coverage Thanks to Obamacare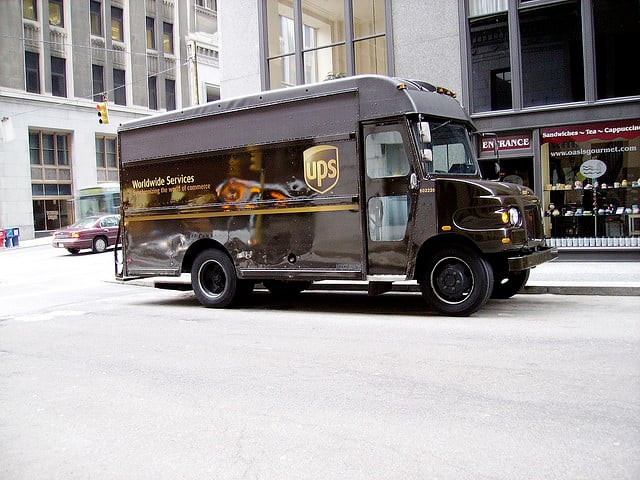 Before the Affordable Care Act was enacted into law in March 2010, approximately 150 million Americans received health insurance through their jobs, and that insurance provided coverage to many spouses, as well. Despite the fact that Obamacare mandates that businesses with 50 or more employees provide health insurance for workers and their dependents or pay a penalty, it will not require employers to cover spouses.
The reasoning behind the provision is that husbands and wives will either be eligible to receive coverage from their own employer or be able to purchase affordable insurance via the individual exchanges. A number of authorities on the health care reform law have said that the change will not significantly affect coverage for spouses.
But many labor advocates fear that may not necessarily be the case, and as business that will be required to provide full-time workers insurance coverage begin to finalize their health care policies, at least one large employer has decided to withdraw spousal coverage.
UPS (NYSE:UPS) — one of the largest employers in the United States and the world's biggest parcel deliverer — plans to eliminate health benefits for approximately 15,000 working spouses of white-collar employees, according to a company memorandum published by Kaiser Health News.
The motivation behind this change is "the rising cost of health care in general" and the new expenses brought on by the Affordable Care Act in particular. UPS reasoned that many spouses in the U.S. workforce will have access to employer-sponsored insurance mandated by health care reform.
The memorandum, dated July 15, addressed frequently asked questions regarding working spouse eligibility, including: "Why can't I cover my spouse for an extra fee, as some other companies allow?"
UPS considered "Implementing a premium increase to cover your spouse" as one option. But "since the Affordable Care Act requires employers to provide affordable coverage, we believe your spouse should be covered by their own employer — just as UPS has a responsibility to offer coverage to you, our employee."
For the company, "limiting plan eligibility is one way" to keep ongoing health care costs manageable, "now and into the future." However, UPS will continue to cover spouses who either do not work or work for employers that do not provide health care benefits, and Medicare is not considered employer-provided coverage.
In support of this decision, UPS said in the memo that 35 percent of U.S. companies intended to make similar changes, but cited no specifics or sources for that statistic. "This change is consistent with the way many large employers are responding to the costs associated with the Health Care Reform legislation," the memo read.
A recent survey conducted by the consulting firm Towers Watson found that next year 18 percent of employers will require that workers' spouses purchase coverage from their own employer before turning to spousal coverage.
Businesses in the United States have been increasing premiums to cover working spouses in recent years, Paul Fronstin, the director of the Employee Benefit Research Institute, told Bloomberg. But he said this total exclusion by UPS may be the first for a company of its size. "Is it a harbinger of things to come? Possibly," Fronstin said in his telephone interview with the publication. "Once a major employer like UPS takes a step, all of the others will at least start looking at it."
While declining to discuss any specifics of the memo, UPS spokesman Andy McGowan told Bloomberg via email that the company's health care costs have more than doubled in the past eight years, and therefore changing benefits for a "limited number" of workers would enable UPS to "maintain premiums at or below current costs for the significant number of employees covered."
In its financial statements, UPS does not break down how much it spends on health care for employees and retirees, but compensation and benefit expenses amounted to $33.1 billion last year, which was the company's largest expense.
UPS's argument is that the benefit change will do little to affect access to insurance for the husbands and wives of its white-collar workers. The reasoning is that they will still receive spousal coverage if their employers are not required to provide coverage under Obamacare's employer mandate, which requires companies with 50 or more full-time workers to provide health benefits.
But even though that provision has been delayed by the Obama administration for one year, UPS will still implement its changes beginning in 2014. As the memo noted, the delay announced by "the Department of the Treasury applies only to pieces of the employer requirements," and those "delays are limited in scope."
Anticipating problems in this area, some health care experts have already identified a flaw in the logic on which UPS based its argument.
While the Affordable Care Act provides options for individuals who are pushed off their spouse's employer-sponsored coverage, the results may not exactly be affordable. In the case of a higher-earning family, if a spouse is dropped from a husband or wife's insurance, the household income would disqualify him or her from receiving a government subsidy to purchase insurance on the individual insurance exchanges.
If the dropped spouse is a middle- or low-income earner, he or she will be able to shop on the exchange with a subsidy. But the cost of the spouse's insurance will still be affected by the total income of the household. When individuals buy coverage on the exchange, the subsidy will be based on household income measured before the household pays for the employer-provided health insurance, which the law stipulates must have a premium costing no more than 9.5 percent of an employee's income.
Therefore, on top of the employer-sponsored insurance costs, the family will be paying for the spouse's insurance on the exchange, which will based on that much higher, pre-health care costs income level.
Here's how the main U.S. indexes traded on Thursday:

Follow Meghan on Twitter @MFoley_WSCS