AT&T CEO Looks to Big Opportunity in Europe and 2 More Heavily Traded Stocks to Follow
AT&T Inc. (NYSE:T): Current price $33.10
Commenting Tuesday at an industry conference held by the European telecoms ETNO, AT&T Chief Executive Randall Stephenson remarked that he sees a "huge opportunity for somebody" in Europe to invest in mobile broadband and garner the sizable profits already being generated from similar services in the United States. Additionally, Stephenson advised Europe to get its mobile spectrum policy correct, in order to entice much needed network investments, observing that, "I continue to be fascinated and impressed by how slow mobile broadband is moving in Europe. So I think of this as a huge opportunity for somebody."

Ford Motor Co. (NYSE:F): Current price $16.51
On Monday, Ford commemorated the 100th anniversary of the moving assembly line, invented by Ford Motor Co under the leadership of Henry Ford. The company is now building upon its legacy of innovation by expanding advanced manufacturing capabilities and debuting groundbreaking technologies that could revolutionize mass production for future decades. By the year 2017, Ford will grow its worldwide flexible manufacturing to produce on average four different models at each plant to permit greater adaptability based on varying customer demand. Beyond that, Ford projects that 90 percent of its plants globally will be running on a three-shift or crew model by 2017, which will help increase output time over 30 percent.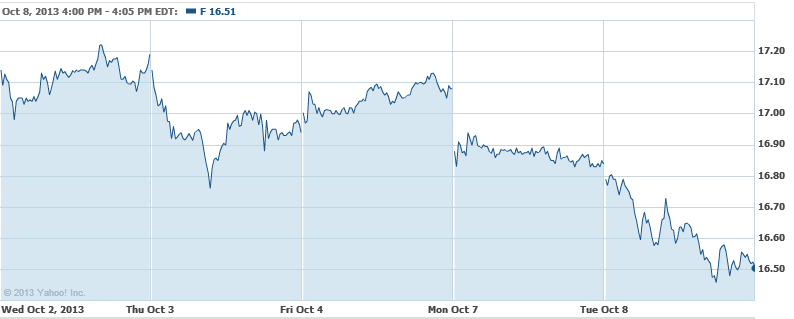 Yingli Green Energy Holding Co. Ltd. (NYSE:YGE): Current price $7.78
Yingli Green Energy is among three Chinese firms being sued by a bankruptcy trustee for Energy Conversion Devices Inc., which alleges that their price-fixing and dumping drove the American solar-panel maker out of business. Trina Solar Ltd., Suntech Power Holdings Co., and Yingli were said to have conspired to export over 95 percent of their output and dump it at artificially low prices so as to dominate the United States market, said trustee John Madden in an October 4 lawsuit in U.S. District Court in Detroit. The trustee wants compensation for the loss of $950 million, Energy Conversion's book value, says the complaint, which was reported previously by the Wall Street Journal.

Don't Miss: Here's How Hackers Are Duping AT&T Customers.