AT&T Expands DAS Into Chesapeake Arena and 2 More Heavily Traded Stocks To Follow
AT&T (NYSE:T): Current price $37.75
The telecom's customers may now enjoy enhanced wireless connectivity in the Chesapeake Arena because of AT&T"s employment of a Distributed Antenna System in the facility. Technicians have been working to join the company's 4-gigabyte LTE tech with the DAS already in place in the arena. The work was finished in April, and the network was tested during playoff games in the arena on Sunday and on Wednesday.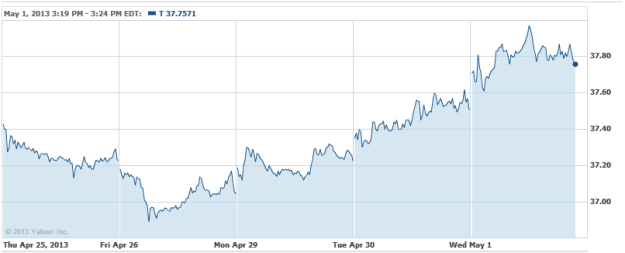 Bank of America Corporation (NYSE:BAC): Current price $17.89
The state of New Jersey has sold $350 million of new-money general-obligation debt, with Bank of America Merrill Lynch as the winning bidder and 10-year debt priced to yield 1.89 percent, according to data compiled by Bloomberg. New Jersey received eight bids. The borrowing was sold at a premium, with Bank of America paying $399 million to purchase the debt, with the state obligated to repay $350 million, said the Treasury Department. Treasurer Andrew Sidamon-Eristoff commented that "it's a nice vote of confidence for New Jersey as a strong credit with a long history of responsible management."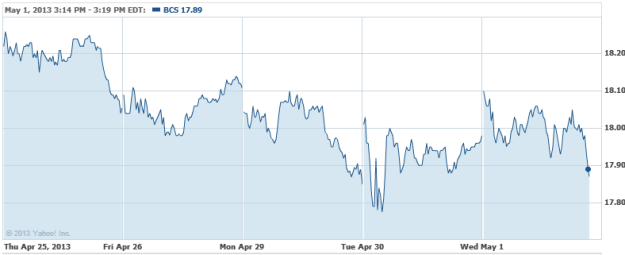 Apple (NASDAQ:AAPL): Current price $439.42
The Fidelity Contrafund manager Will Danoff, currently the biggest active shareholder in Apple, slashed his position  in the company by 12 percent in the first quarter, blaming "heightened concern" regarding rising competition. Danoff's $92-billion Contrafund has surpassed 94 percent of its peers during the past 15 years, is thought one of the most savvy stock pickers among mutual fund managers. Danoff remarked, "Given our heightened concern surrounding the increased competition Apple was facing, we continued to trim our stake in the company during the period." Meanwhile, Apple's shares have jumped almost 10 percent in the last week since it said that it would hike its dividend, along with share repurchases to $100 billion.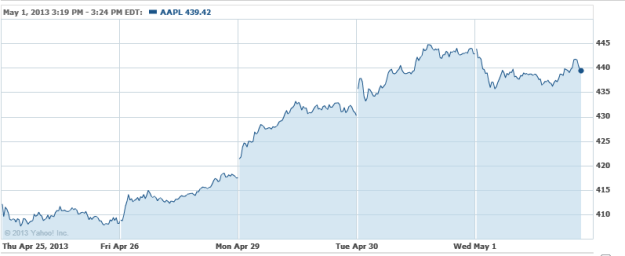 Don't Miss: Do Apple, AT&T, and Verizon Not Care About Our Privacy?