AT&T Goes to the Kentucky Derby and 2 More Heavily Traded Stocks to Follow
AT&T (NYSE:T): Current price $37.20
Because a new high-speed Distributed Antenna System has been installed at Churchill Downs in Louisville, AT&T will be able to give its customers exclusive, enhanced wireless connectivity for the races and other May 4 events, where crowds top 150,000 on Derby day. AT&T worked jointly with a third party wireless infrastructure supplier for the installation of new wireless antennas throughout the grandstands, suites and premium seating areas of the Downs to enhance wireless coverage, capacity and data speeds during the peak event times. The telecom will be the first wireless carrier to link to the DAS.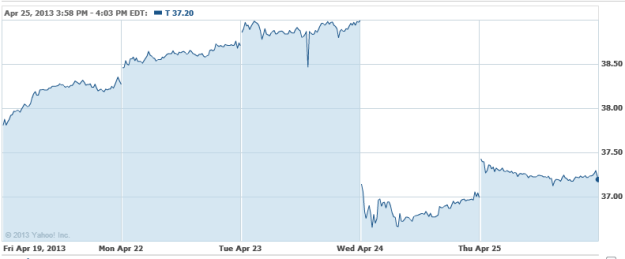 Nokia Corporation (NYSE:NOK): Current price $3.30
Nokia will hold hold a press conference in London on May 14, to discuss where it wants to go with its Lumia line of Windows Phones. However, an invitation to journalists on Thursday gave scant details. The words "See What's Next" can barely be seen against the invitation's blue background, along with a promise that "The Nokia Lumia story continues." Nokia has gambled its smartphone future on Windows Phone and the Lumia line and it has received critical praise, but Microsoft's operating system overall has been growing more slowly than either Nokia or Microsoft would prefer.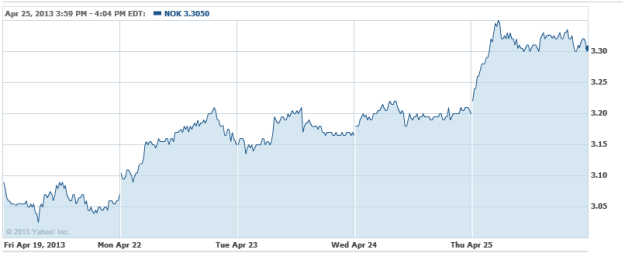 Micron Technology (NASDAQ:MU): Current price $9.50
Micron reports that its Hybrid Memory Cube was chosen the Memory Product of the Year by a panel of industry experts. The award was announced this week at the EE Times and EDN ACE Awards Event at Design West, which is the yearly technical conference for electronics design engineers, entrepreneurs, and tech professionals. This 2013 awards represent a critical phase in the industry, as system designers throughout a wide range of applications search out new memory system designs to support highered demands for bandwidth, density and power efficiency.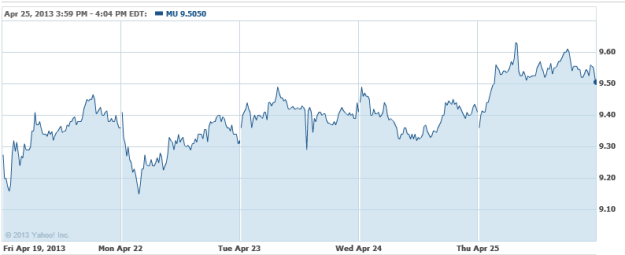 Don't Miss: Apple's Margins May Be Thin, But iDevices Sell Like Hotcakes.