AT&T Launches the New LG G2 on September 13 and 2 Other Dow Movers to Watch
AT&T Inc. (NYSE:T): Current price $33.33
The new LG G2 will be first domestic smartphone to debut with the new Qualcomm Snapdragon 800 processor. Available at AT&T stores September 13, the phone will go for $199.99 with a two-year agreement, or $27 per month with AT&T Next. Online sales start September 6. The LG G2′sdesign is said to be a first of its kind as the power and volume keys are housed on the rear of the device, providing one-hand gripping and central control. The G2′s unique KnockOn feature permits users to wake the phone with a simple tap on the screen, bypassing the power button completely.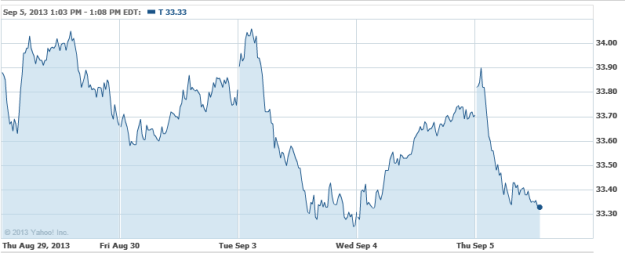 The Walt Disney Co. (NYSE:DIS): Current price $61.30
Walt Disney Co.'s recently-introduced video game Infinity is selling impressively and top retailers say that they are replenishing stock to satisfy demand, making for an encouraging start for the firm's plans to rebound its loss-generating game division. Retailers GameStop, Toys "R" Us, and Wal-Mart Stores reported that they are restocking so as to stay ahead of demand for the game, which debuted on August 18.
GameStop spokesman Matt Hodges observed that, "The momentum continues to be very strong. A couple of toy characters like Violet (the young female superhero from The Incredibles) are hard to get." Neither Disney nor the retailers revealed specific sales figures.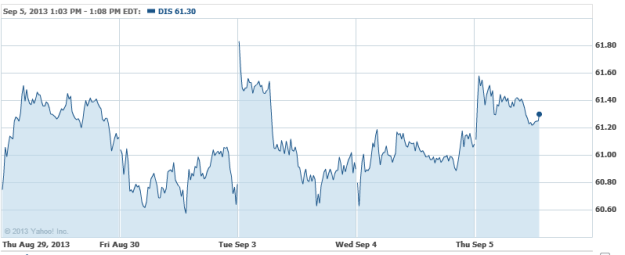 The Coca-Cola Co. (NYSE:KO): Current price $38.17
Two dozen veterans will be recruited to kick-off Coca-Cola Troops for Fitness throughout the Miami-Dade area with a grant to the Parks Foundation of  Miami-Dade. Mayor Carlos A. Gimenez announced the more-than $190,000  grant awarded by The Coca-Cola Foundation and overseen by the National  Recreation and Park Association.
Miami-Dade Parks, Recreation, and Open Spaces will manage the introduction of Coca-Cola Troops for Fitness, which is a military-style fitness program led by United States military veterans. Further, the grant will support nutrition and physical activity programs offered at the county's 13 community centers. By the end of 2016, over 5,000 Miami-Dade residents will enjoy increased access to health and wellness programs.