AT&T Loses Patent Infringement Suit and 2 Dow Movers for Thursday
3M Company (NYSE:MMM): Current price $105.27
A number of LED light bulbs now cost under $10, a price that is  more appealing to cost-conscious consumers, says The New York Times, which added that they also come in different colors now.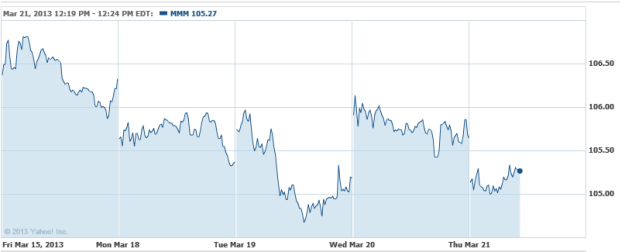 AT&T (NYSE:T): Current price $36.12
Susman Godfrey has won a $27.5 million verdict on behalf of its client, Two-Way Media, in a patent infringement lawsuit in San Antonio against AT&T, connected to the streaming of audio and video content over the Internet. Two-Way Media owns patents covering live streaming and recordkeeping tech that is used for broadcasting audio and video over the Internet. In April 2008, the firm sued AT&T, Akamai Technologies, and Limelight Networks for infringing three of those patents; Akamai and Limelight previously settled with Two-Way Media in the matter. The three patents are in regards to various methods for controlling the routing of real-time streams of audio and/or video information over communications networks, and for recording detailed usage data by consumers. The jury supported Two-Way Media's position that AT&T's digital U-verse TV services were covered by Two-Way Media's patents.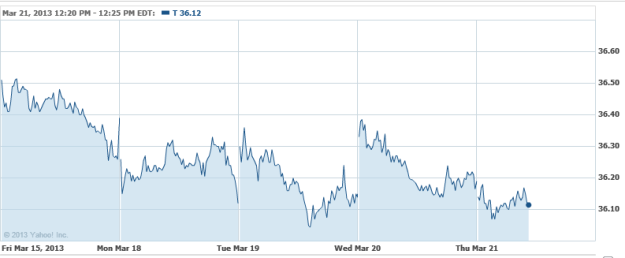 The Coca-Cola Company (NYSE:KO): Current price $40.37
Coke intends to lay off about 750 employees in the United States over the coming months as part of an attempt to streamline its operations, according to the Atlanta Journal-Constitution. The cuts will affect 1 percent of the firm's 75,000 employees in North America.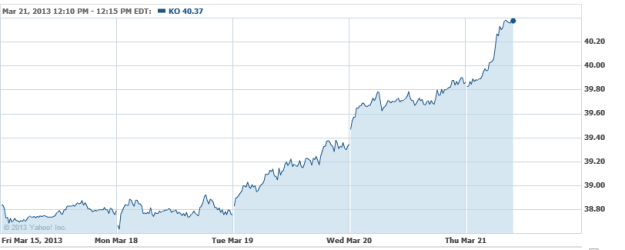 Investing Insights: Is Nokia Still in Danger?