AT&T & Miami Dolphins Partner for New WiFi At Sun Life and 2 Other Dow Movers to Watch
AT&T Inc. (NYSE:T): Current price $34.28
It was announced Thursday that the Miami Dolphins have reached an accord with AT&T for new Wi-Fi, plus other mobile services, which have now been deployed at Sun Life Stadium to improve the mobile experience for fans during games and events. The added network capacity and new services support call reliability and better network access, so fans may benefit from near real-time statistics, social networking, venue information, and more. Resulting from the arrangement with AT&T, the 75,000-plus seats Sun Life Stadium now has in excess of 1,100 Wi-Fi access points throughout the venue.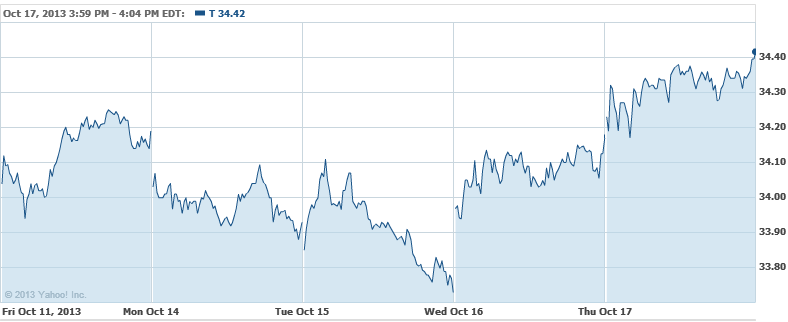 The Boeing Co. (NYSE:BA): Current price $121.87
The chief of Boeing's defense division Dennis Muilenburg told Reuters on Thursday that Boeing is still much engaged with South Korea regarding the possible sale of F-15 fighter jets, even with the government's move in September to restart a multibillion-dollar tender process. The F-15 had been set to win the tender, but Seoul put the kibosh on that, after former military top officers and ruling party lawmakers criticized the plane for not having stealth capabilities. Muilenburg observed that, "What they decided to do was to delay and take another look, so we're still very much engaged there with the F-15. That competition has been delayed and restructured but it's not over."
Pfizer Inc. (NYSE:PFE): Current price $30.00
Pfizer reported Thursday that the European Commission has okayed updates to the Summary of Product Characteristics for its pneumococcal conjugate vaccine Prevenar 13 (pneumococcal  polysaccharide conjugate vaccine [13-valent, adsorbed]), as to its use in certain populations at high risk of pneumococcal disease. The updated label now includes information describing the use of the vaccine in preterm infants, children, and adolescents who have sickle cell disease who were previously vaccinated with the 23-valent pneumococcal polysaccharide vaccine, and adults having human immunodeficiency virus infection who were previously vaccinated with the 23-valent pneumococcal polysaccharide vaccine.

Don't Miss: AOL's Patch: Scheduled for a Trim.