AT&T Named 2013 Magic Quadrant Leader and 2 More Dow Movers to Watch
AT&T (NYSE:T): Current price $38.64
Gartner names AT&T a 'Leader' in its 2013 Magic Quadrant for Managed Hosting, North America. Since 2004, and then for seven straight report updates, the company has been included as a Leader in the Managed Hosting space. The Gartner report looked at 15 vendors, concentrating on the enterprise-class, managed hosting market, and independent of the type of underlying infrastructure. The evaluation criteria included the ability to execute on service offerings and service excellence; overall business viability and track record; and thoroughness of vision for the future needs of customers.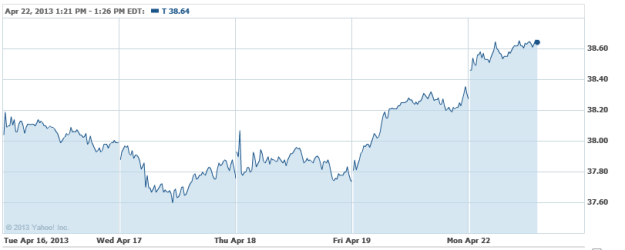 The Coca-Cola Company (NYSE:KO): Current price $42.74
Chicago Mayor Rahm Emanuel, Coca-Cola and Keep America Beautiful announced on Monday a $2.59-million grant in support of the citywide expansion of the Blue Cart Recycling Program via the purchase of 50,000 blue cart recyclers during the next five years. To that effect, Coca-Cola and its philanthropic unit, The Coca-Cola Foundation, are granting $2.59 million over the next five years to Keep America Beautiful, through which to boost citywide recycling and to hopefully inspire Chicagoans to recycle more. The investment supports Mayor Emanuel's hope to make Chicago "the greenest city in the world" and to provide blue cart recycling to all 50 wards in the city.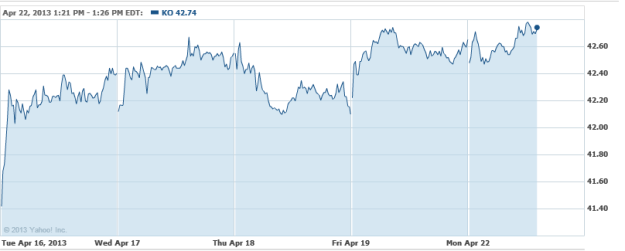 Procter & Gamble (NYSE:PG): Current price $81.26
Earlier in April, Procter & Gamble reported that 45 of its global facilities have now achieved the level of zero manufacturing waste to landfill. In anticipation of Earth Day, the firm now shares a short video Worth from Waste, along with an invitation to its Sustainability Live Chat on Monday. Viewers may view the video and register for the Live Chat by means of the self-contained unit, called a Content Capsule, that can be shared across all social media channels.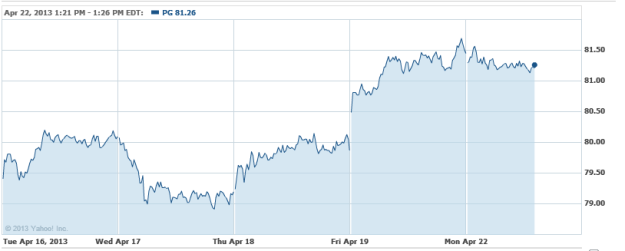 Don't Miss: AT&T Will Help Juice Samsung Galaxy S4 Sales at Launch.