AT&T Powers Up the 2013 Bonnaroo Festival and 2 Other Dow Movers to Watch
AT&T (NYSE:T): Current price $35.83
What would Woodstock been like with all this? AT&T is bringing out its own high-tech line-up to wow the crowd at Bonnaroo, which could top 80,000. The telecom is the exclusive communications partner of 2013 music festival in Manchester, Tennessee, and has installed two MegaCOWs (Cell Sites on Wheels), three COWs, six CARTs (Compact A/C Radio Telephone Sites) and four, five-beam multi-beam antennas which will boost its award-winning 4G LTE network that is has already deployed in that area. Beyond that, mobile cell sites, which will cover a number of musical stages, will give additional wireless coverage and capacity, enabling music fans to share their experiences with friends and family from the 700-acre farm northwest of Chattanooga.

Intel Corporation (NASDAQ:INTC): Current price $24.83
The corporation announced Tuesday that the Intel Solid-State Drive DC S3500 Series, which is its most recent solid-state drive for data centers and cloud computing. Created for read-intensive applications like Web hosting, cloud computing, and data center virtualization, the Intel DC S3500 Series is a replacement for the traditional hard disk drives, permitting data centers to save meaningful costs by moving towards an all-SSD storage model. Over half of American businesses now utilize cloud computing applications, and IDC predicts that worldwide spending on cloud services could hit $44.2 billion in 2013. Data centers driving these cloud applications need to rapidly, efficiently and reliably scale to deal with the tremendous growth of connected users and data traffic.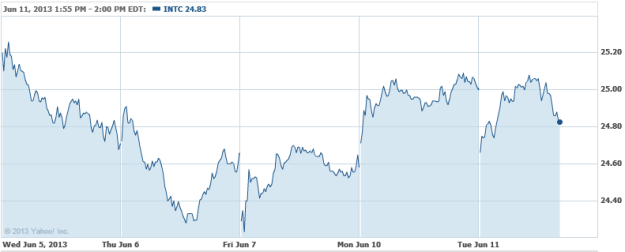 The Boeing Company (NYSE:BA): Current price $101.84
Boeing has announced an order from the Unites States Army for 177 Chinook helicopters worth $4 billion, and also raised its 20-year projection for airplane demand to 35,280 jets worth $4.8 trillion. The aerospace company made the announcements while global  aircraft makers get ready for the Paris Air Show, which begins Monday. Boeing said that the purchase of 177 CH-47F Chinook helicopters includes an option which could boost the total order to 215 aircraft.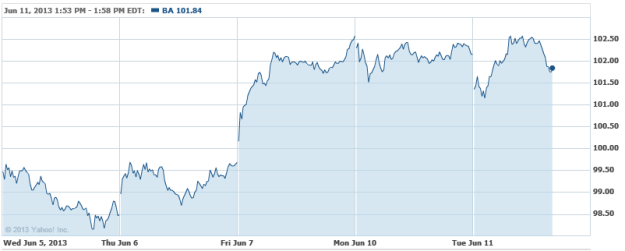 Don't Miss: Apple's iOS: Is Google Too Popular to Stop?