AT&T Said to Be Raising Cash By Selling Cell Towers and 2 Other Dow Movers to Watch
AT&T Inc. (NYSE:T): Current price $34.82
Unnamed sources to Bloomberg report that AT&T hopes to garner as much as $5 billion to help fund its lengthy and expensive agenda by divesting its cell towers to possible buyers like American Tower, Crown Castle International, and SBA Communications. If telecom giant does sell off its towers, it would not be the first mobile operator to do of late as tower operators are presently buying up available wireless infrastructure.

Pfizer Inc. (NYSE:PFE): Current price $28.65
The White House says that President Obama is adding seven new members to the Export Council, which operates as an advisory committee on international trade. Two top pharmaceutical executives will join – Chief Executive Ian Read of Pfizer and President Kenneth Frazier of Merck. President Obama intends to meet with the council on Thursday. In 2010, the President set the assertive goal of doubling American exports by 2015, but now it is not thought certain that the goal will be accomplished.

The Walt Disney Co. (NYSE:DIS): Current price $65.52
Disney shares are down by about 2.25 percent Thursday after being downgraded at Morgan Stanley from Overweight to Equal Weight, and its price target lowered to $70. The analyst reduced estimates to below consensus and said that visibility is more difficult as its previous thesis of ESPN pricing power, and returns on Parks investments has been largely played out. However, the firm expects that growth will come from creative success and purchases, and foresees stronger growth opportunities elsewhere.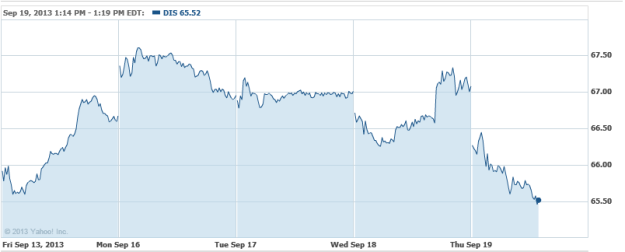 Don't Miss: 6 Films That Led Universal to a Record Year Overseas.