AT&T Starts Galaxy S 4 Sales and 2 Dow Movers To Watch
AT&T (NYSE:T): Current Price $38.02
The Galaxy S 4 from Samsung (SSNLF.PK) is now officially up for pre-order on AT&T's website. For the present, only the 16-gigabyte models in both black and white are available, and only in certain areas. The carrier will probably make more models available in the next few days as pre-orders build up. The 16-gigabyte model starts at $199 with a two-year contract, and AT&T says that the phone will ship on April 30. The phone features a Smart Pause feature, which stops playing video when the phone can't detect that the user is looking at it, and also Air View, which allows the user access extra information by hovering over a picture or email subject.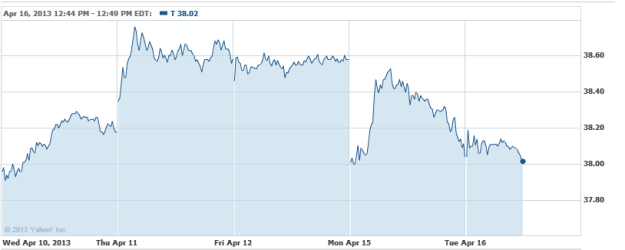 Alcoa (NYSE:AA): Current Price $8.11
Randall Scheps, world automotive marketing director for Alcoa, projects that his company should more than triple its sales of aluminium sheet to automakers by 2015, as they shrink car weight by substituting the commodity for steel in car bodies, according to Reuters. Revenue from auto sheet, which is primarily used in car bodies, is expected to jump to $580 million by 2015 from $160 million in 2012, said Scheps, who commented, "It is moving from the very expensive, luxury vehicles into the mass market vehicles. That's what so exciting about what's going to happen in the next two or three years." Tough emission standards are pressing automakers to reduce the weights of cars, and aluminum is one-third of the weight of conventional steel, but it is more expensive.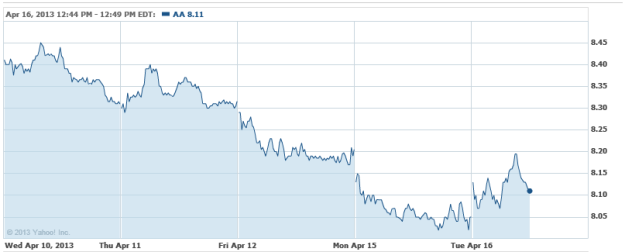 Boeing (NYSE:BA): Current Price $87.12
Transportation Secretary Ray LaHood reported on Monday his department will not hurry its review of Boeing's plan to fix battery problems for its grounded 787 Dreamliner, but that a decision could come "soon," according to Reuters. The Secretary told reporters, "We're not going to short circuit it. We're going to take our time. When we're finished reviewing their plan, we will announce it to the world." When asked about a timeline for a decision on Boeing's plan, LaHood said "soon."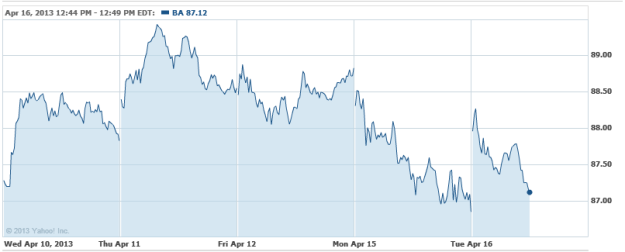 Don't Miss: How will U.S. Automakers React to Obama's Invitation to Japan?