AT&T to Stock Samsung ATIV S Neo in November and 2 Other Hot Stocks to Watch
AT&T Inc. (NYSE:T): Current price $34.86
Starting on November 8, the Samsung (SSNLF.PK) ATIV S Neo will be available at AT&T for $21 per month with AT&T Next, or $99.99 with a two-year contract. The ATIV S Neo represents AT&T's first Windows Phone 8 smartphone from Samsung that takes advantage of the U.S.'s 4G LTE network. The product offers more ways by which to personalize the smartphone experience, according to Samsung.
Advanced Micro Devices Inc. (NYSE: AMD): Current price $3.29
Advanced Micro Devices on Thursday introduced the AMD Radeon R9 290X graphics card, debuting the GPU for a new era in PC gaming. As the dominant AMD Radeon R9 Series graphics card, the AMD Radeon R9 290X GPU delivers superior performance while pushing the boundaries of audio and visual realism for gamers who want the best. Using AMD's award-winning Graphics Core Next architecture at its core, the AMD Radeon R9 290X graphics cards have an unparalleled advantage with Mantle, an industry-changing tech developed by AMD.

General Electric Co. (NYSE:GE): Current price $25.81
GE's Critical Power unit has introduced its most recent isolated DC/DC power module, offering 544 watts with 95 percent efficiency. A new addition to GE's ORCA series of DC/DC converters, the JRCK017A0S32R0 supplies as much as 17 amps of DC output current at a nominal output voltage of 32 volts DC. The Distributed-power Open Standards Alliance-compliant, half-brick form factor is optimized for high-voltage, high-power applications like wireless and switch networks.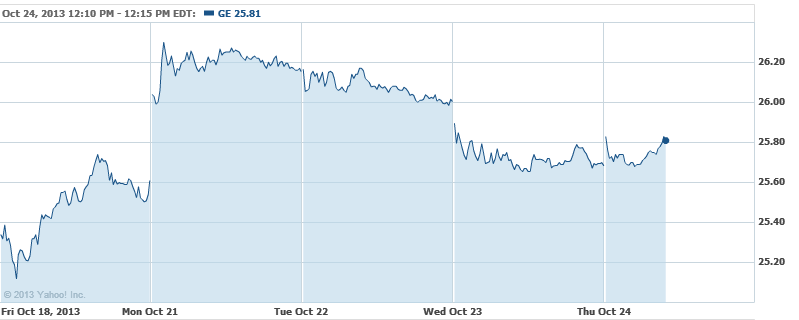 Don't Miss: Sirius Earnings: Hefty Expenses Hid Growing Subscribers.