AT&T Will Allow Device Upgrades by Customers and 2 Other Dow Movers to Watch
AT&T Inc. (NYSE:T): Current price $35.73
On Tuesday, AT&T announced that it will permit its customers to make annual device upgrades and pay through monthly installment plans, so as to compete with a similar option offered by its smaller competitor, T-Mobile U.S. The number-two domestic mobile service provider is being pressed to improve its subscriber numbers, as it loses market share to its larger rival, Verizon Wireless. Smaller rivals, such as T-Mobile, have begun to compete more assertively for customers. Commencing on July 26, AT&T customers may pay monthly installments for their phones or tablet computers, and exchange their device for a new one each year.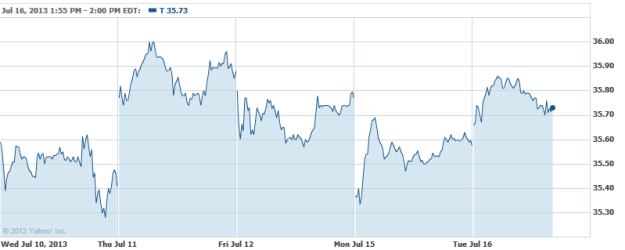 International Business Machines Corp. (NYSE:IBM): Current price $193.99
IBM reports that in the past two years, it has introduced software that can help oversee street activities to government officials in dozens of Chinese cities. The IBM Intelligent Operations Center software permits Chinese officials to respond more rapidly to public safety emergencies, and the country's increasing congestion problem, according to Jeffrey Rhoda, general manager of IBM's government and education division. The tool has the capacity to group information garnered from cameras, sensors, and social media into a single dashboard, letting officials make improved decisions in real time.

Merck & Co. Inc. (NYSE:MRK): Current price $48.14
Merck revealed Tuesday that the FDA has cancelled a Thursday meeting to review the company's drug, which was created to help patients "wake up" following surgery with anesthesia. In a statement, the firm said that the FDA needs more time to assess the drug sugammadex, subsequent to an agency inspection of one of Merck's clinical trial sites. The site was one of four in which Merck was studying allergic reactions to the drug.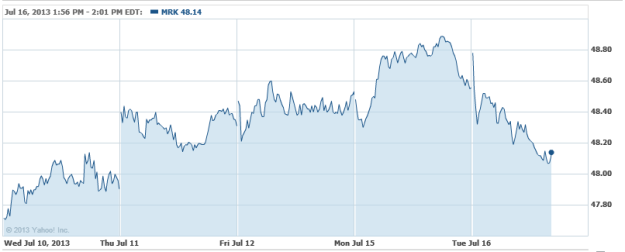 Don't Miss: Conspiracy Charge: Does Apple Have a Chance to Appeal?