AT&T Will Eliminate Older Plans for New Customers and 2 Other Dow Movers to Watch
AT&T Inc. (NYSE:T): Current price $33.97
AT&T announced late Friday that soon its new customers will only be able to purchase Mobile Share plans, which entail higher data fees, but permit subscribers to share data allowances among multiple devices. The second-largest domestic mobile operator said that the elimination of older plans for new customers would be effective as of October 25, and that it is streamlining its offerings because the data-share plans are now its most popular. AT&T added that existing customers may keep their current plans, even when they are upgrading to a new device, which is unlike its largest competitor Verizon Wireless. Both firms introduced shared-data service plans last year.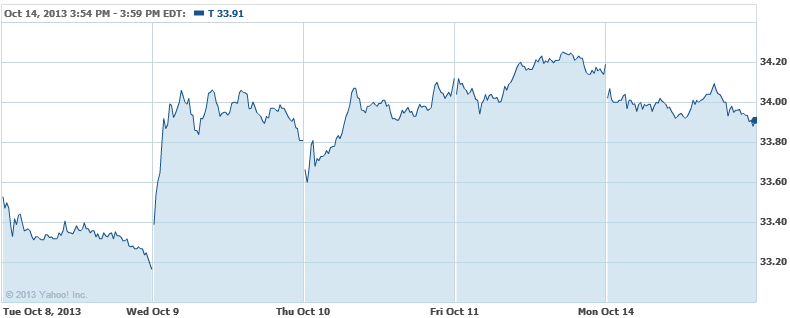 The Procter  & Gamble Co. (NYSE:PG): Current price $78.55
On Monday, Proctor & Gamble and the National  Breast Cancer Foundation announced the launch of the P&G Breast Cancer Awareness campaign to educate women, and also the men in their lives, regarding the importance of early detection. Statistically, one in eight women will be diagnosed with breast cancer in her lifetime, and Proctor & Gamble and the NBCF are encouraging men to motivate the women in their lives to conduct regular self exams, scheduling regular medical exams, and forming an early detection plan.

The Boeing Co. (NYSE:BA): Current price $118.87
According to the Defense Department's inspector general, Boeing charged the United States Army for new helicopter parts while they installed used ones, in the most recent of four audits since 2008 that found excessive or unjustified payments on Boeing defense contracts. A report labeled "For Official Use Only" and obtained by Bloomberg News said that, "Boeing significantly overstated estimates" of new components needed for CH-47F Chinook helicopters and "primarily installed used parts instead" under a $4.4-billion contract awarded in 2008.

Don't Miss: Ripe for the Picking: Analysts Explain Computer Sales.