AT&T Will Launch 2 Smartphones Running on Android and 2 Other Dow Movers to Watch
AT&T Inc. (NYSE:T): Current price $33.49
AT&T announced the debut of two new smartphones that will run on Google's Android operating system. The carrier will launch Moto X and HTC One mini on Friday, diversifying its smartphone portfolio in the process, Zacks Equity Research says. Moto X represents the most recent phone from Motorola Mobility, which houses a 4.7-inch HD display and a 10 megapixel camera equipped with LED flash coupled with such features like a touchless control. Moto X will mark the first phone from AT&T that will permit users to customize their own device at AT&T stores or via its website.
E.I. DuPont de Nemours & Co. (NYSE:DD): Current price $57.17
On Wednesday, DuPont opened an Application Development Center in Hyderabad, India, as it expands its integrated science capabilities at the DuPont Knowledge Center, which concentrates on joining advanced material science with other scientific disciplines for the automotive industry, permitting solutions to be found for light-weighting, engine performance, comfort and safety. The company says these capabilities are also relevant to other industries like railways, food processing, electrical or electronic components, agriculture, irrigation, textile, and others.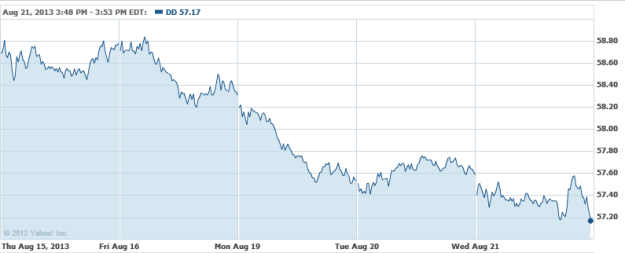 International Business Machines Corp. (NYSE: IBM): Current price $184.95
IBM said Wednesday that it has been chosen as a leader for business consulting in Smart Cities projects in the IDC MarketScape U.S. Business Consulting Services for Smart Cities 2013 Vendor Analysis. The IDC report said IBM's ability to assist clients in achieving this new agenda is backed by comprehensive IT consulting services and industry-specific information tech and business solutions like business analytics and big data, smarter commerce, social business, IBM's Intelligent Operations Center for Smarter Cities platform, and IBM's enterprise application and application management services.