AT&T's U-verse Subscriptions Pass 10 Million Milestone and 2 Other Dow Movers to Watch
AT&T Inc. (NYSE:T): Current price $35.34
It is now estimates that over 10 million customers subscribe to AT&T U-verse High Speed Internet service, marking a major achievement in the firm's ongoing endeavors to bring IP broadband access to more of the population. Senior Executive Vice President, AT&T Home Solutions, Lori Lee said that, "This latest milestone shows how U-verse is helping transform AT&T into a premier IP broadband company." As of the third quarter, total U-verse high speed Internet subscribers represented around 60 percent of all wireline broadband subscribers versus 43 percent in the same period of 2012.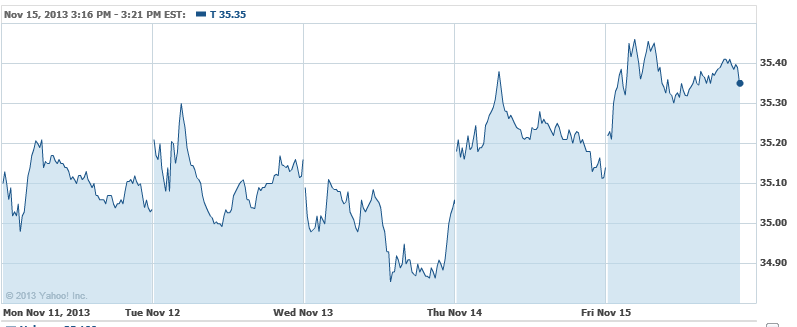 Microsoft Corp. (NASDAQ:MSFT): Current price $37.76
Bill Gates wants Norway's $800 billion oil fund, as one of the largest investors on the planet, to spend more in the poorest countries as he obtained the prime minister's support with his proposal. Gates, who manages the $37 billion Bill and Melinda Gates Foundation, said in Oslo that Norway should set reserve a portion of the fund to invest in infrastructure in sub-Saharan Africa and Asia, and purchase equity in small enterprises which alleviate agricultural and medical problems. During his visit to the Norwegian capital, Gates observed that, "Norway is by many measures one of the richest countries in the world and you can afford to take some of that money and help out people in other places."

International Business Machines Corp. (NYSE: IBM): Current price $182.18
On Friday, IBM announced that it is adding eleven additional schools to its 200-plus partnerships with universities worldwide, focusing on working jointly to bring cyber security skills into the classroom. The Bureau of Labor Statistics says that employment in the cyber security field should to grow rapidly, increasing by 22 percent by 2020. As organizations transmit and store more sensitive information electronically, the requirement for employees having experience in cyber security will be imperative to guard data in the cloud, mobile devices and traditional computing.
Don't Miss: Warren Buffett's 10 Favorite Stocks.