AT&T's Vodafone Involvement and 2 Dow Movers To Watch
Exxon Mobil Corporation (NYSE:XOM): Current price $90.25
The United States energy industry is discussing the possible exportation crude oil, says The Wall Street Journal. Following the Arab oil embargo in the 1970s, Congress mostly disallowed exports to protect domestic oil supplies, but now output is soaring and energy executives wonder whether the United States needs all the petroleum it extracts.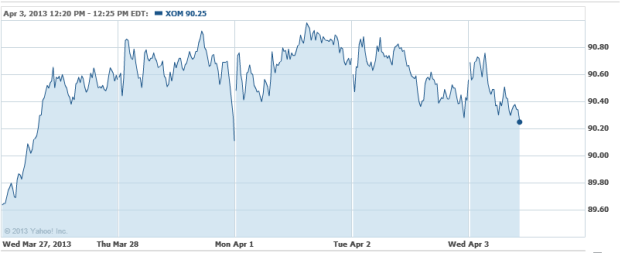 International Business Machines Corporation (NYSE:IBM): Current price $213.85
The growth in sales of CommVault Systems (NASDAQ:CVLT) from data-management software could entice offers from such giants as IBM, in what would be the industry's most expensive deal in a decade, says Bloomberg, which also said that the software company's sales are forecast to jump by 33 percent during the next two years, which is faster than 81 percent of similar-sized firms.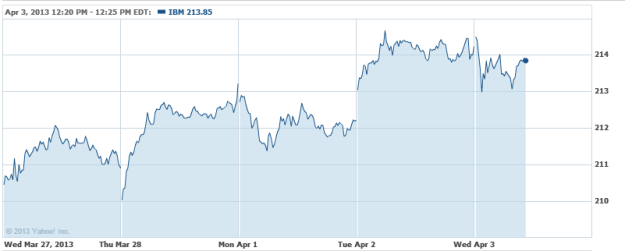 Verizon Communications (NYSE:VZ): Current price $48.90
If AT&T (NYSE:T) were to become involved in a Vodafone Group (NASDAQ:VOD) deal with Verizon, it could prove to be an expensive call, reports The Wall Street Journal's Heard on the Street. Chatter has it that the timing could soon be right for Verizon to acquire the 45 percent of Verizon Wireless owned by London-based Vodafone, or just purchase Vodafone itself. However, in a late-Tuesday U.S. Securities and Exchange Commission Exhibit 99, Verizon states that it is not interested in a purchase of Vodafone at this time.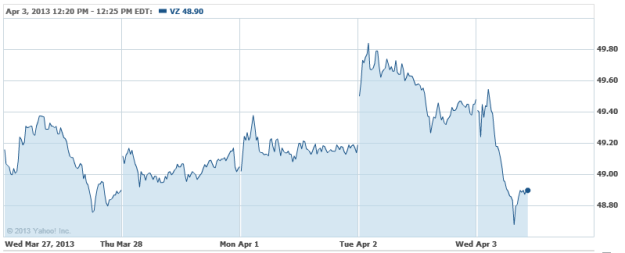 Don't Miss: This is What Apple's Job Creation Looks Like.