Austerity Bites: GDP Revised Lower
The United States economy has definitely begun to feel the effects of austerity.
Cuts to government spending held back growth more than initially expected during the first quarter. Drawing on revised figures, the U.S. Department of Commerce reported Thursday that gross domestic product expanded at a 2.4 percent annual rate in the first three months of the year, down a tenth of a point from an initial estimate released at the end of April.
Judging from reasonably stable employment, housing, and consumer sentiment data, analysts had forecast that GDP would have remained in line with the original figure. But growth was hurt as spending across all levels of government slowed. Washington has tightened its fiscal belt several notches in the past several years. However, in 2013, the federal government significant increased austerity measures, hiking payroll taxes in January and slashing the federal budget in March.
Even with those austerity measures in place, economic growth has been fairly resilient so far this year, helped by the Federal Reserve's low interest rate policies. Still, most economists believe that growth will continue to slow through the middle of the year as budget cuts come into effect. In total, government spending dropped at a 4.9 percent annual rate in the first quarter.
Contributing to the quarter's softer growth was the caution manifested by businesses, which stocked their shelves at slower rate than expected. But the drag from diminished government spending and smaller inventory investments was partially offset by an upward revision to consumer spending, which increased at a 3.4 percent annual rate, a jump of two tenths of a point from the government's previous estimate. However, that figure was not entirely good news for the economy as most of the upward revision was due to higher gasoline prices, and higher prices at the pump put a burden on consumers, leaving them with less money to spend in other areas. Consumer spending accounts for approximately 70 percent of all economic activity in the United States.
The rate of economic growth in the first quarter was much faster than the prior quarter's pace, but likely still too weak to fuel stronger gains in the labor market. On Thursday, the U.S. Department of Labor reported that initial claims for unemployment benefits rose 10,000 to a seasonally adjusted 354,000, a level higher than analysts had expected.
Together, the labor and GDP data could offer support to the arguments of those economists who believe that economy needs more monetary stimulus, countering the possibility that policymakers at the central bank will begin easing back on the bond buying program this year.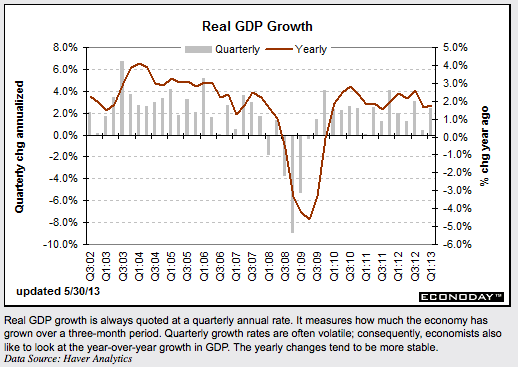 Follow Meghan on Twitter @MFoley_WSCS
Don't Miss: Do Americans Desperately Need a Paid Vacation?