AutoZone Earnings Cheat Sheet: Profit Rises
S&P 500 (NYSE:SPY) component AutoZone, Inc (NYSE:AZO) reported its results for the third quarter. AutoZone, Inc. is a specialty retailer of automotive replacement parts and accessories, offering an extensive line for cars, sport utility vehicles, vans and light trucks.
Don't Miss: Wall St. Cheat Sheet's newest Feature Trades of the Month!
AutoZone, Inc Earnings Cheat Sheet for the Third Quarter
Results: Net income for AutoZone, Inc rose to $227.4 million ($5.29/share) vs. $202.7 million ($4.12/share) a year earlier. A rise of 12.1% from the year earlier quarter.
Revenue: Rose 8.6% to $1.98 billion YoY.
Actual vs. Wall St. Expectations: AZO beat the mean analyst estimate of $4.99/share. Estimates ranged from $4.67 per share to $5.26 per share. It beat the average revenue estimate of $1.92 billion.
Quoting Management: "We are very pleased to announce another quarter of strong performance. This marks the tenth consecutive quarter of 20% plus growth in earnings per share and our nineteenth consecutive quarter of double digit growth. Our results are the direct reflection of the dedication and commitment of our 60,000+ AutoZoners, who strive everyday to meet or exceed the needs of our customers. Additionally, our consistent, disciplined approach to enhancing our offerings through our ongoing initiatives is resonating with our customers, resulting in continued growth in market share. This quarter we achieved two significant milestones. We exceeded $1 billion in sales in our Commercial business on a trailing four quarter basis and we set another new all-time record for return on invested capital at 30.2%. We remain committed to our disciplined approach of growing operating earnings while efficiently utilizing our capital," said Bill Rhodes, Chairman, President and Chief Executive Officer.
Competitors to Watch: Advance Auto Parts, Inc. (NYSE:AAP), O'Reilly Automotive, Inc. (NASDAQ:ORLY), The Pep Boys – Manny, Moe & Jack (NYSE:PBY), U.S. Auto Parts Network, Inc. (NASDAQ:PRTS), General Motors Company (NYSE:GM), Toyota Motor Corp. (NYSE:TM), Honda Motor CO., Ltd. (NYSE:HMC), Ford Motor Company (NYSE:F), CarMax (NYSE:KMX), Tesla Motors Inc (NASDAQ:TSLA), Tata Motors Limited (NYSE:TTM) and Navistar Intl. Corp. (NYSE:NAV).
Stock Performance: Shares of AZO are up 4% this morning from the previous close of $276.78.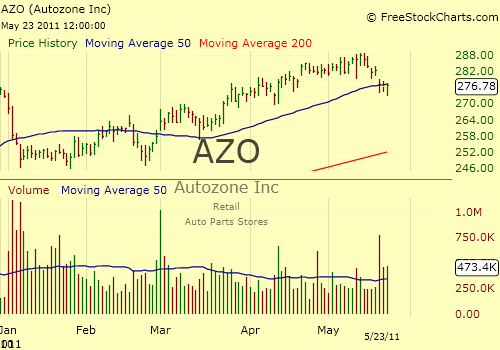 Don't Miss Wall St. Cheat Sheet's newest Feature Trades of the Month!