Avery Dennison Inks Sales Agreement and 4 Stocks Riding 52-Week Highs
Avery Dennison Corporation (NYSE:AVY): Closing price $38.44
Avery Dennison is divesting its Office and Consumer Products and Designed and Engineered Solutions units to CCL Industries a at a price of $500 million in cash. The transaction should close in mid-2013. The firm will use the net sale proceeds of about $400 million for the repurchase of shares and to make an additional pension contribution. The aggregate 2012 adjusted EBITDA for OCP and DES was roughly $110 million. Shares closed up 6.36 percent in the day at $38.44, and have been traded in a 52-week range of $26.18 to $36.76.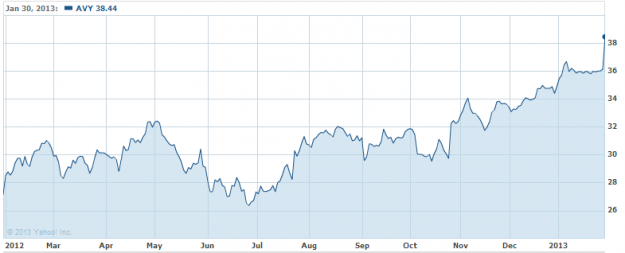 Becton Dickinson and Company (NYSE:BDX): Closing price $84.12
BlackRock has posted a 5.24 percent passive interest in Becton Dickinson. Shares closed down 0.19 percent on the day at $84.12, having been traded in a 52-week range of $71.56 to $84.63.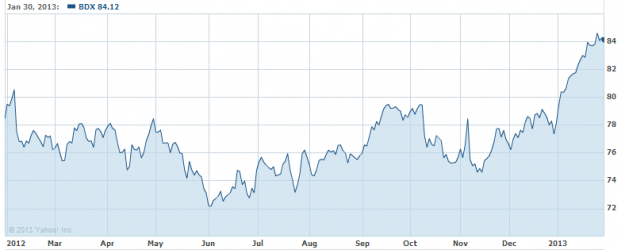 BioClinica (NASDAQ:BIOC): Closing price $7.21
BioClinica will be purchased by a holding company that is controlled by the private-equity firm JLL Partners, which will initiate  a cash tender offer to buy all of BioClinica's common stock at an offer price of $7.25 per share, that culminates in an equity value of roughly $123 million. Any BioClinica shares not tendered in the offer will be purchased in a second-step merger at the same cash price as paid in the tender offer. The purchase price represents a bonus of 23.2 percent over its average closing price for the 90 days ended January 29th. Following the close, BioClinica will become a privately held firm and its stock will no longer trade on the NASDAQ stock exchange. Shares closed up 19.73 percent on the day at $7.21, and have been traded in a 52-week range of $4.60 to $6.59.

Johnson & Johnson (NYSE:JNJ): Closing price $74.09
Johnson & Johnson is putting most of its domestic feminine hygiene business on the block, so as to exit low-growth areas, said three sources to Reuters. The company reportedly does wants to keep its K-Y brand, however. Potential suitors could be Swander Pace Capital or Brynwood Partners. Shares closed down 0.43 percent on the day at $74.09, having been traded in a 52-week range of $61.71 to $74.62.
Life Technologies (NASDAQ:LIFE): Closing price $64.44
Life Technologies will provide a complete laboratory solution through which to identify an estimated 20,000 human remains found in various mass graves in Libya, after the uprising of 2011 and also to address missing persons cases from the 42-year regime of Muammar Gaddafi. This identification work is expected to take a number years, and the firm will supply the infrastructure, including the expertise, training, and the forensic instruments and materials to validate the workflow and process DNA samples through its Dubai-based distributor Integrated Gulf Biosystems. Shares closed up 3.42 percent on the day at $64.44, and have have traded in a 52-week range of $39.73 to $63.70.
Investing Insights: Is Western Union Looking For Love in All the Wrong Places?